Campaign creative examples
Tasmania - Come Down For Air is being showcased through a range of channels including television, cinema, print, social and digital advertisements. It is also being showcased on billboards, in airport lounges, railway stations, office lobbies, elevator screens and on street furniture.
Here are some examples of the print advertisements: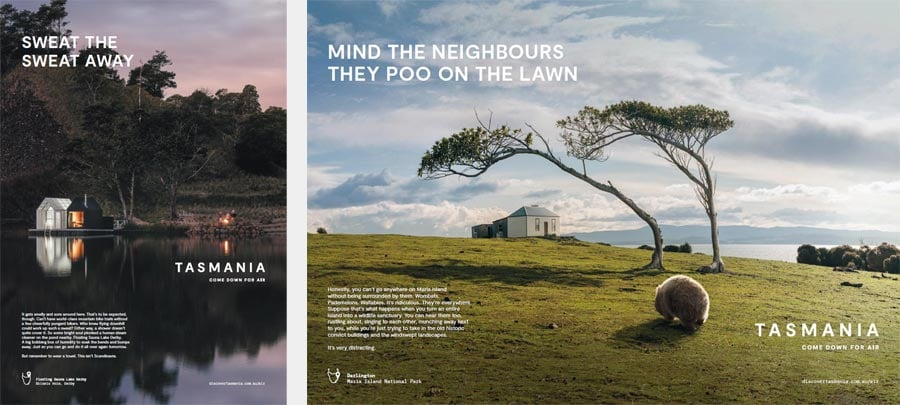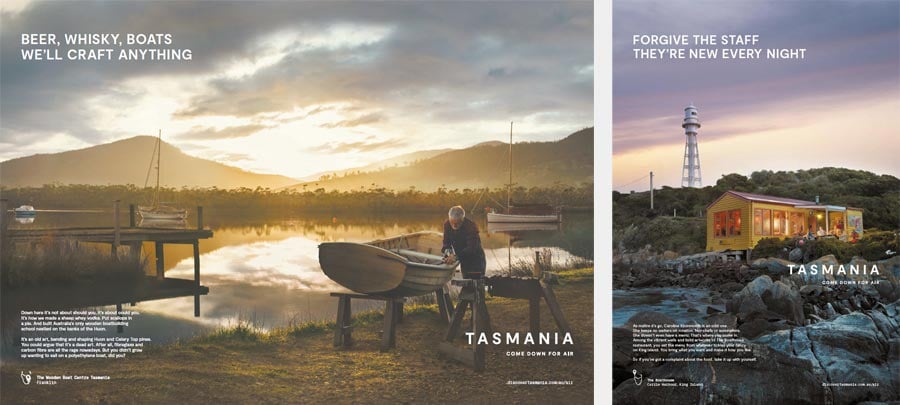 Print advertisements in high resolution:
You will also see us responding to our audiences' needs by showcasing micro-moments designed to cut-through their busy lives. Here are a couple of examples of short videos on digital channels:
Penny Farthing
1:10 pm – Evandale, Tasmania
We'll race anything around here. Even the odd penny-farthing.
Maria Island
8:18 pm – Maria Island, Tasmania
This place has it all. 40,000 year old stories, 360 degree views, and slow moving fluffy lawn mowers.
The Boat House
8:21 pm – King Island, Tasmania
At this restaurant, it's BYO everything. Food, chef, waiter and dish cleaner. We just bring the view.
Boat Maker
6:04 am – Franklin, Tasmania
Hand craft, is hard graft. It ain't the easy way. But down here, that's what floats our boat.
Real Hunter
10:43 pm – Seven Mile Beach, Tasmania
It's man versus nature in this curious game of hide and seek. Man one, wild asparagus, zero. Yes, real hunters carry baskets.
There are also written articles that unpack the storylines of Tasmania and its people, showing readers what is possible in Tasmania and helping them to discover what they can do across the island. We are telling longer stories about our place and taking a deeper dive into our product and experiences.
To see the campaign, visit discovertasmania.com.au/air