Australian Tourism Awards - Tasmanian Winners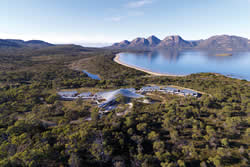 The 2017 Qantas Australian Tourism Awards ceremony was held on 23 February 2018 in Perth. The awards celebrate outstanding industry achievements across 25 categories and encourage professionalism, sustainability and innovation while providing a benchmark for industry best practice.
Congratulations to the Tasmanian winners who won awards in their categories:
Gold
Tasmanian Walking Company - Ecotourism
The Maria Island Walk - Tour and Transport Operators
Saffire Freycinet - Luxury Accommodation
Silver
Avalon Coastal Retreat - Self Contained Accommodation
MACq 01 Hotel - New Tourism Business
Port Arthur Historic Site - Cultural Tourism
RiverFly 1864 - Specialised Tourism Services
Roaring 40s Kayaking - Adventure Tourism
Bronze
The Unconformity - Festivals and Events
Altitude Restaurant + Lounge Bar - Tourism Restaurants and Catering Services
Pumphouse Point - Unique Accommodation
Henry Jones Art Hotel - Deluxe Accommodation
Hall of Fame
The Tasmanian Walking Company has entered the National Tourism Hall of Fame for winning gold in the Eco-Tourism category three years in a row.
A list of the winners can be found on the Qantas Australian Tourism Awards website.