Accelerating Agritourism in Tasmania
The Opening the Gate: Accelerating Agritourism in Tasmania project is now underway, following a launch at Coaldale Walnuts in Richmond earlier this week.
This project received grant funding from the Australian Government under the Recovery for Regional Tourism program, an initiative of the $1 billion COVID-19 Relief and Recovery Fund.
It is being delivered by the Tasmanian Government in partnership with Tasmania's four Regional Tourism Organisations, working in conjunction with a project team lead by agribusiness specialist Optimum Standard.
It is a new initiative to help farmers, food producers and existing agritourism businesses in Tasmania to explore and embrace new agritourism opportunities to diversify, amplify, value add, and connect with visitors.
Through the T21 Visitor Economy Strategy 2020-2022, the Tasmanian Government and the tourism industry have identified agritourism as a key priority for rebuilding visitation from the impacts of COVID-19.
Opening the Gate will accelerate and diversify the number and quality of agritourism experiences across regional Tasmania, attracting visitation to our regional areas benefiting our local visitor economies.
The Tasmanian opportunity is simple - to be the best place in Australia for artisanal and small-batch products and agritourism experiences.
John Fitzgerald, CEO Tourism Tasmania is excited by the possibilities this project offers for visitors to Tasmania.
"We know from our research that visitors to Tasmania are looking for a personalised and enriching experience that provides opportunities to connect directly with our producers and produce."
"The Opening the Gate project is a great way for Tassie producers to explore opportunities in agritourism that meet those needs."
For local producers, the outcomes of this program can be transformative – enabling possibilities to diversify and innovate existing farm businesses, to enable an alternative or additional income stream, or to plan new opportunities for other family members on the land.
Sophie Milic, Director of Coaldale Walnuts in Richmond said that agritourism provides agreat opportunity for farm businesses to diversify, as well as offer consumers the chance to learn more about where their food comes from.
"Moving into a new industry is a huge step for producers, which is why Opening the Gate will really help these businesses to understand the market and put together a strong plan before they take the leap."
"At Coaldale Walnuts, we have only taken small steps towards agritourism - with our annual farm open weekend - but we're already thinking about ways we could expand this, so we'll definitely be exploring how Opening the Gate could help us", Ms Milic said.
Nick Haddow, Chair of Brand Tasmania and Founding Director of one of Tasmania's longest running agritourism businesses, the Bruny Island Cheese and Beer Company is looking forward to seeing the outcomes of the Opening the Gate project.
"For producers such as myself, providing an on-farm or cellar door experience enables us to connect directly with visitors to provide unique insights into what makes our produce so special."
"It's an opportunity to bring incredible Tasmanian stories and properties to life, and growing the number of these hands-on, immersive farming experiences will increase Tasmania's reputation as a leading agritourism destination."
As part of the first phase of Opening the Gate, a series of Field Days will be held in regional areas across Tasmania, commencing in late August.
Farmers and producers are invited to attend one of the Field Day events, to learn more about the opportunities associated with agritourism and how to get started or develop further. After attending a Field Day, producers can participate in the Agritourism Business Development Program (ABDP). Designed to support farmers to innovate their farm business, the ABDP is based on Australia's most successful and longest-running capacity-building and business-mentoring program developed by Regionality.
For more information about the Opening the Gate project and how to get involved, please visit: www.agritourismtasmania.com.au.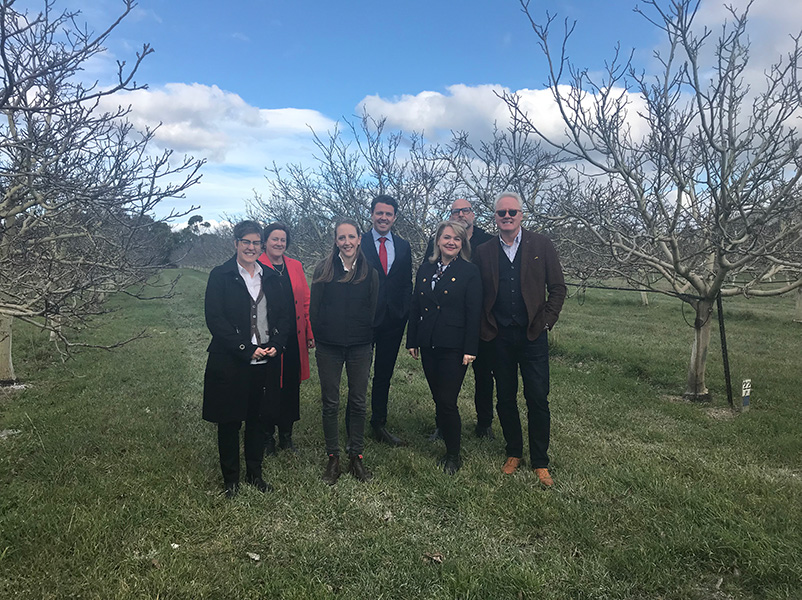 Opening the Gate: Accelerating Agritourism in Tasmania Launch - Coaldale Walnuts, Richmond: Allison Clark, Lead Innovator Optimum Standard, Belinda Hazell, Principal Consultant Optimum Standard, Sophie Milic, Director Coaldale Walnuts, Senator Jonathon Duniam, Madeleine Ogilvie MP, Nick Haddow, Chair of Brand Tasmania, and John Fitzgerald, CEO Tourism Tasmania.