What's on summer 2021 – events
Lavender fields in bloom
Pure, purple and picturesque
December 2021 - January 2022
Statewide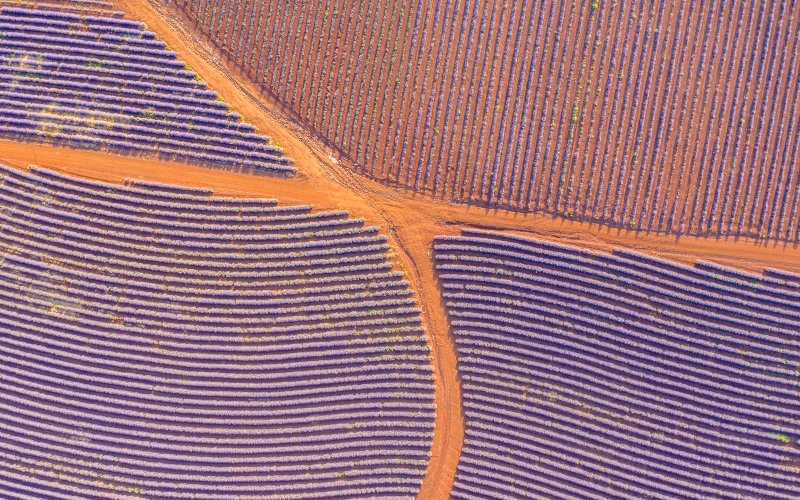 Luke Tscharke, Fields of Lavender at Bridestowe Lavender Farm
Lavender produces a sea of purple across Tasmania through summer. Known for its fragrant, medicinal and culinary purposes, the herb en masse makes for a visually spectacular sight. The best places to take a whiff include Bridestowe Lavender Estate, home to 260 aces of lavender fields. Located 55km north east of Launceston at Nabowla, it's one of the world's top producers of lavender oil.
Learn about the extraction process with a guided tour or wander leisurely through the lavender rows. Don't forget to take home a fragrant keepsake on your way out.
The Lavender House at Rowella is Tasmania's only working perfumery, specialising in the therapeutic benefits of lavender with rare species of lavender growing onsite.
Down south Port Arthur Lavender hosts 18 acres of lavender fields. Stroll the lavender trails or enjoy a lavender-inspired bite to eat at the café whilst enjoying the ocean views.
Cray for crayfish
A summer of seafood
November 2021 - April 2022
Coastal Regions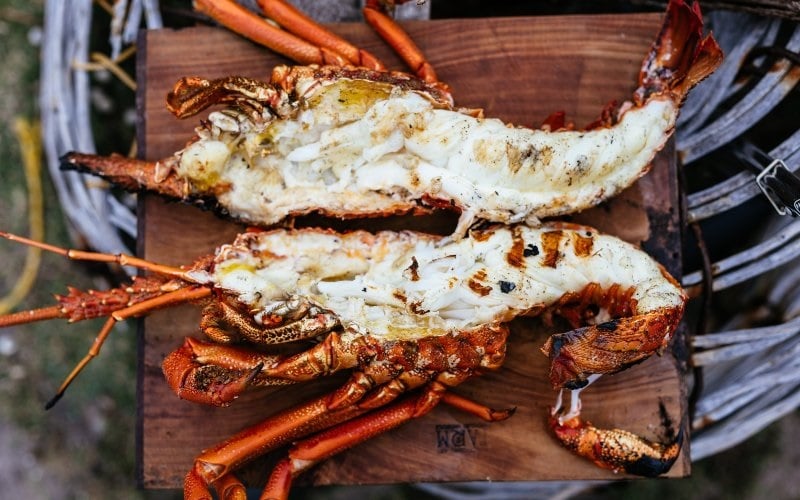 Adam Gibson, A Summer of Crayfish
Tasmanian seafood delicacies are sweeter in summer. The Tasmanian coastline is an ideal breeding ground for crayfish, which are then sold at fish markets and served a restaurants across the island.
The bright hues of a crayfish vary from deep purple and creamy yellow to reddish-purple and vibrant orange, a firm white textured flesh to bite into with a slightly salty and sweet taste.
It's important that Tasmania sustains our seafood populations so rather than taking on the spiky task of hunting for crayfish yourself, this highly prized crustacean is best experienced at one of our many seafood providers or eateries.
To nab a fresh cray in the city, try your luck at Mako Seafood, the Fish Man, and Mures at Constitution Dock on Hobart's waterfront. Further afield, head to a fishmonger such as Ashmores, a short 15 minute drive from the Hobart airport or try The Fish Van at Triabunna another popular stop on the Great Eastern Drive.
Preparing a crayfish can be time-consuming, take the stress out of cooking and ask a local chef to prepare it for you instead.
Try the Lobster Shack on Tasmania's East coast, famous for their fresh lobster rolls. The Flinders Island Wharf know what they're doing with a cray, the crustecean has been an island staple for centuries.
Or you can always do it like a local and befriend a fisherman at the pub.
Rolex Sydney to Hobart Yacht Race
Australia's iconic ocean yacht race
26 December 2021 - 1 January 2022
Hobart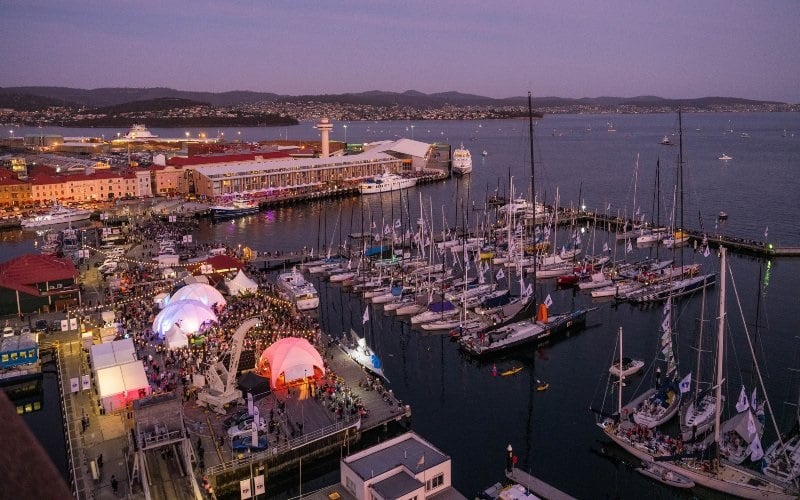 Alistair Bett, Sydney to Hobart Yacht Race
The Rolex Sydney Hobart Yacht Race is one of the world's toughest ocean competitions. Intrepid sailors race a gruelling 628 miles from Sydney Harbour, down the south-east coast of mainland Australia, across Bass Strait, then down the east coast of Tasmania to Hobart.
Hobart's waterfront is prime position for watching the yachts cross the finish line. Join spectators as they gather on the banks of the River Derwent to cheer the competitors and get an up-close look of the impressive racing vessels.
Be sure to wander the docks post-race and listen to the yachties debrief and swap tales of the treacherous race.
Celebrations continue with New Year's Eve festivities and the waterfront is the perfect place to take a stroll and check out the Hobart Race Village, the eateries and bars and the Taste of Summer festival.
Set sail at www.rolexsydneyhobart.com
Tasmania's Taste of Summer
Hobart's summer food festival
28 December 2021 - 3 January 2022
Hobart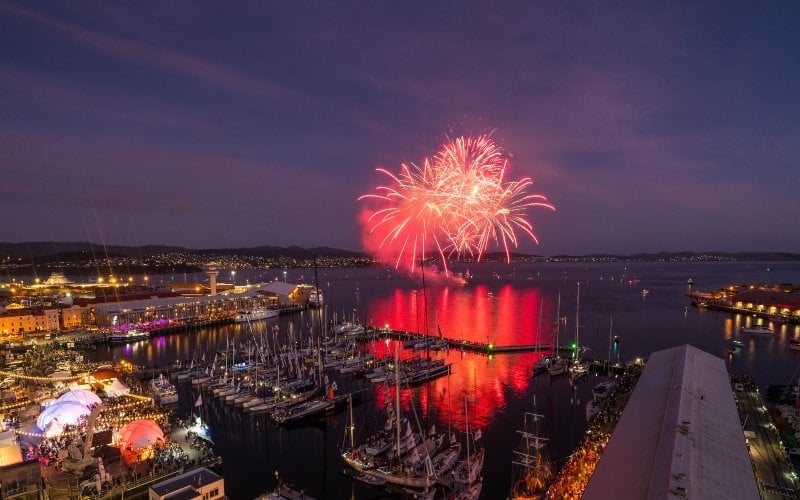 Alistair Bett, Hobart New Years Eve Fireworks
Tasmania's Taste of Summer is a key event on Tasmania's social calendar.
Previously known as the Taste of Tasmania, or 'the Taste' (as it is affectionately named by locals), an evolved version of the festival will take place at Princes Wharf Shed No. 1 for the post-Christmas and New Year period.
This year's festival will bring together over 80 of Tasmania's finest food and drink producers from regions across the state. A line up of 200 of Tassie's best performing artists will take the stage.
The New Year's Eve party is a ticketed event with delicious food and drinks, fireworks and live music across both a waterfront and lawn stage.
Start salivating at www.tasteofsummer.com.au
Mona Foma
Mona Foma's city spanning summer festival
21 – 23 January 2022, Launceston
28 – 30 January 2022, Hobart
Jesse Hunniford, Robin Fox laser installation at Albert Hall, Launceston
Mona Foma 2022 will bring two weekends of music, art and performance to both ends of the island in Launceston and Hobart.
The festival will deliver a sprawling program of music and events celebrating the depth of Tasmania's homegrown talent alongside acclaimed acts from further afield.
From a dance work exploring the journey of the pakana people, a cross-section of live music, to cement-mixer-monster-trucks, aerialists atop a dripping iceberg and high-powered lasers illuminating the landscape.
The festival includes over 300 artists, across 40 venues in Launceston, Hobart and the Midland Highway in between.
Legendary Australian band Midnight Oil is performing two near sold-out shows in each city, playing songs from their forthcoming new album, recent music from The Makarrata Project (inspired by the Uluru Statement from the Heart), alongside classics from their back catalogue. This comes ahead of the Oils farewell tour of Australia.

Beds are burning at www.monafoma.net.au
The Ashes
Tassie has finally urn-ed an Ashes test
14 - 18 January 2022
Blundstone Arena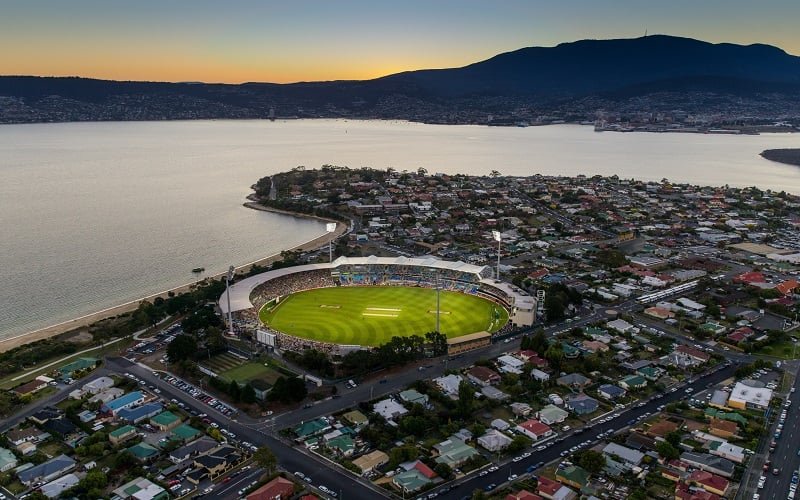 Alastair Betts, Blundstone Arena
Howzat? Watermelon helmets at the ready, for the first time ever Tasmania is hosting the Ashes series. The fifth and final test will be held at Blundstone Arena on Hobart's eastern shore.
The Ashes series is a five-match test cricket series played between Australia and England. The series is cricket's oldest rivalry played biennially.
The event will be the first test match in Hobart since 2016 and the first time England has played a Test match in Tasmania. Visitor statistics are already showing it's set to be one of the biggest summers of cricket on the island, ever.
So whether you're part of the Barmy Army or wearing a baggy green, get hit for six on January 14.
Go on Hobart, you've urn-ed it. Find tickets here (they're almost gone).