What's on in winter 2019 – events
Festival of Voices: 28 June – 14 July
Sing Your Heart Out
The Festival of Voices is Australia's premier celebration of the voice, attracting an audience of over 30,000 people to the two-week event in Hobart and on Tasmania's east coast. Performances are held on large and small scales, from recitals halls and bars to unexpected spaces. Enjoy performances by Dami Im, She Persisted, Holy Holy and Electric Fields, as well as emerging musical talent. The City of Hobart Big Sing Bonfire on Sunday 7 July is loved by people of all ages – gathering at the large bonfires at Salamanca Place to sing along in unison to contemporary and well-loved tunes. Tickets are on sale now. Highlights from 2018
Huon Valley Mid-Winter Festival: 12 – 14 July
By The Light of the Fire
The Huon Valley Mid-Winter Festival is a celebration of centuries-old pagan traditions, storytelling and winter feasting. This year the festival is moving to their new location at the Ranelagh Recreation Grounds, 30 minutes south of Hobart. The festival commences on Friday night with an Aboriginal ceremony to cleanse the spirit. After much feasting and music, the night will culminate in the burning of the two-storey wicker man, 'Big Willie'. There will be food and beverages on offer from a selection of local stallholders throughout the festival. A new addition to this year's Saturday program is a long table lunch by Wild Grove and Season & Fire. Saturday night features the tradition of wassailing – the crowd will shout, sing and bang pots and pans to awaken the apple trees in the hope of a good harvest. Buses from Hobart and Cygnet will operate on Friday and Saturday, as well as a free Huon Valley shuttle service throughout the festival.
Tickets are on sale now at www.williesmiths.com.au/mid-winter
Tasmanian Whisky Week: 12 – 18 August
Celebrate the Golden Drop
Tasmanian whisky is known as one of the finest in the world. Tasmanian Whisky Week is a week-long celebration of whisky and the people who make it. Events are being held across Tasmania and include full day bus tours visiting distilleries, the launch of a film about whisky, Scotch: The Golden Dram, tastings with distillers and a progressive dinner through four of Hobart's best restaurants matched with four distilleries.
Tickets are on sale now at www.taswhiskyweek.com
AFL in Tasmania: Various dates
Be Here for the Bounce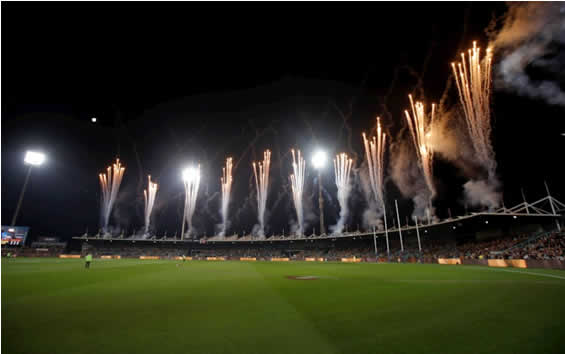 This winter there are four AFL games in Tasmania featuring the Hawthorn 'Hawks' and the North Melbourne 'Kangaroos'. In Round 16 (7 July), North Melbourne kick off against St Kilda at Blundstone Arena in Hobart. The following week in Round 17 (13 July) Hawthorn play Fremantle at UTAS Stadium in Launceston. Round 19 (27 July) sees Hawthorn return to take on the Brisbane Lions at UTAS Stadium. The final Tasmanian game is Round 23 (23 August) when North Melbourne play Melbourne at Blundstone Arena in Hobart.
Tickets are available at www.ticketek.com.au