What's on in autumn winter 2019
Tasmania's autumn - winter festival and events season is upon us. So pack your coat and a fluffy beanie, you're going to have a great time down here exploring the festivals, sport, nature, art, music, and food we're serving up during this seasonal transition.
Tyrepower Tasmania SuperSprint
Get Your Heart Racing
April 5 – 7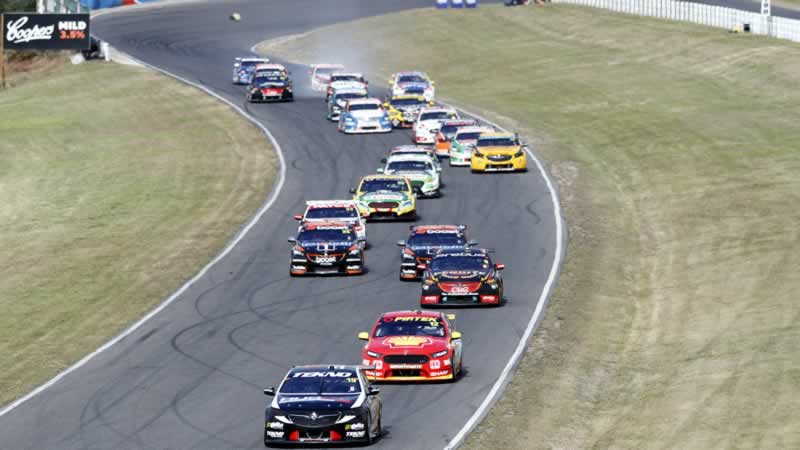 The largest sporting event in Tasmania returns to Symmons Plains, 30km south of Launceston. Celebrating 50 years, the racing action attracts more than 55,000 people to the track over the weekend. After a thrilling end to the 2018 season, round 3 of the Virgin Australia Supercars Championship will see drivers and their teams determined to secure a strong start in Tassie. Ticket options range from Platinum Reserved Grandstand seating, Trackside and Park & View (where you can watch the race from your own car). Kids 12 and under go trackside free with a paying adult. Off-track attractions include car displays, merchandise alley, the family zone and Champions Breakfast where the first 50 people who attend will receive a free Supercars merchandise pack. Fans with a Paddock Pass too can grab an autograph from their favourite driver in the Supercars Paddock.
ECHO Festival
Harvest through History
April 6 – 7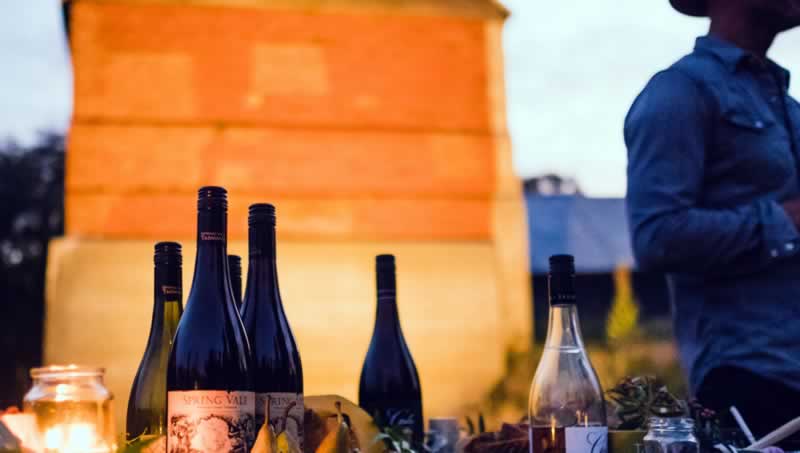 Tasmania's first ECHO Festival on the spectacular East Coast will be a celebration of harvest through history. Showcasing Tassie's best wines and produce, the Chef's Native Bounty Feast offers local shellfish, wallaby, lamb and bush foods all cooked over open coals. Take part in grape stomping for the festival's 'Great Eastern Ferment'– a bottle will be aged and ready to taste at ECHO 2020. The weekend festival invites campers to nestle into the banks of the Swan River alongside the Gala Mill in the rural hamlet of Cranbrook. Saturday's feast is followed by fireside storytelling and live music. Then wake up to a 'river cleanse' in the chilly waters of the Swan River, strong coffee and breakfast on Sunday morning. The $195 festival ticket price includes the feast and wines, gin,whisky and shellfish tastings. Campers will pay an extra $20 for a spot or for a premium glamping experience book a luxurious bell tent with the Tasmanian Glamping Co.
Flinders Island Food and Crayfish Festival
A Wild Long Lunch
April 11 – 14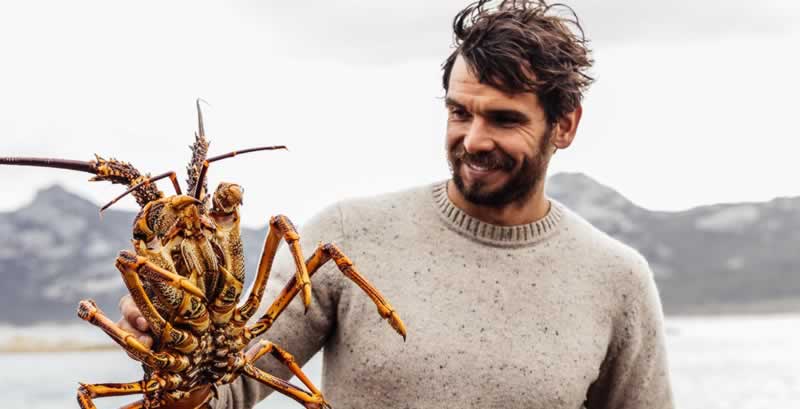 The Flinders Island Food and Crayfish Festival offers a feast of traditional island life. The four-day event celebrates fresh, locally sourced food prepared by some of Australia's most acclaimed and creative chefs. The theme for the highlight 'long lunch' event on Saturday is 'Mother Nature + Human Nature = The Natural Order of Things'. Chefs are set to top last year's delights - fish cooked on wooden planks and lamb roasted over iron grates. The cool waters off Flinders Island nurture some of the best crayfish in the world – matched perfectly at the festival with Tasmania's finest wines. Fishermen, farmers and sommeliers will be on hand all weekend to demonstrate how to use local ingredients to best preserve the island's heritage. Learn about foraging and gathering plants, herbs and island produce. Boating, fishing, diving and hunting trips can be booked ahead and enjoyed during festival days
Turning of the Fagus
Fields of Gold
(late April to May)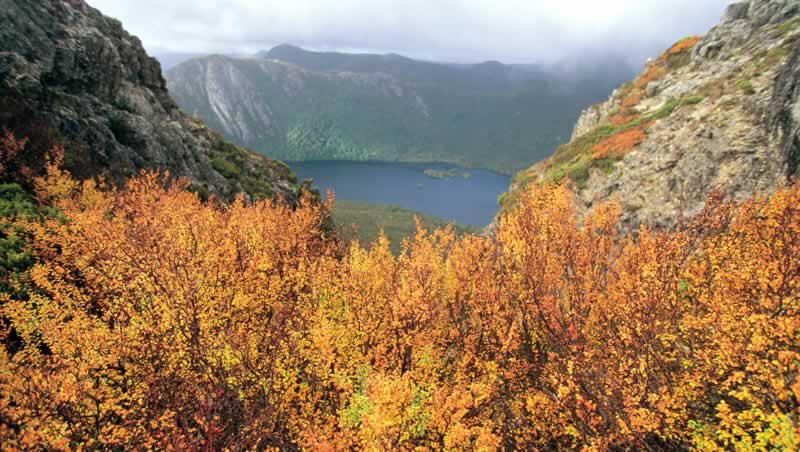 The Turning of the Fagus is acolour riot you'll only see in Tasmania. The Fagus, or deciduous beech, turns incredible hues of red, orange and gold in Autumn, filling national parks with a unique seasonal spectacle. The small, ground-hugging tree is Australia's only cold climate winter-deciduous tree – and only found in Tasmania. The best spots for viewing the Turning of the Fagus on foot are on the Tarn Shelf and at Lake Fenton at Mount Field National Park where glacial lakes are fringed with Fagus gold. Fagus is also on display on the Dove Lake circuit and the Crater Lake walk at Cradle Mountain at Lake St Clair National Park. If you're a non-walker, head to Mt Field and take Lake Dobson Road for warm car-side viewing.
International Mural Fest
The Town Of Murals
April 21 – 27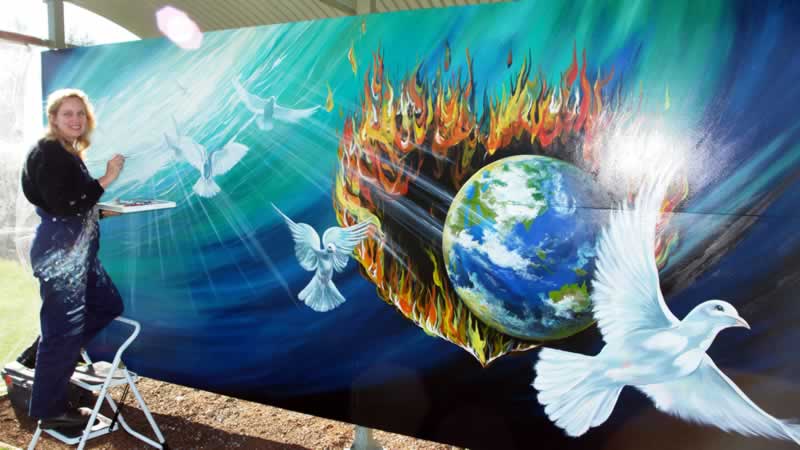 Watch nine artists battle it out before your eyes at International Mural Fest. The live art competition was the first of its kind in the world and is staged every year at Sheffield in Tasmania's North West. Held in Mural Park, an outdoor gallery in the heart of town, artists compete in a public 'paint off' from Easter Sunday to the following Saturday. Each artist paints a 2.1m by 4.8m mural using a theme poem, set each year, as their inspiration. Visitors are encouraged toscrutinise the work, chat with the artists and vote for the winner. Known internationally as Australia's 'Town Of Murals' Sheffield commissioned its first mural in 1986 and since then more than 60 murals have been painted. Murals highlight the area's history and natural beauty. International Mural Fest has proven so popular in the last decade similar events have popped up interstate and around the world.
AFL Football
Kicking Goals In Tassie
April 28 / May 18 / May 25 / June 16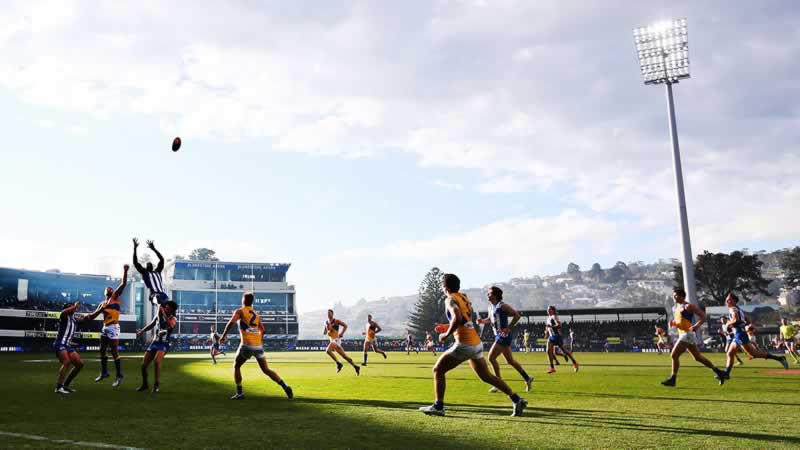 It's time to put Tasmania in your AFL game plan. The AFL returns to the island state this season with two games to be played in Launceston and two games set for Hobart from April 28 to June 16. In Round 6 on April 28, Hawthorn will take on Carlton in Launceston at UTAS Stadium. Round 9 on May 18 will see North Melbourne battle it out against the Sydney Swans at Hobart's Blundstone Arena. In Round 10 on May 25, Hawthorn will take on Port Adelaide at UTAS Stadium in Launceston. And Hobart's Blundstone Arena will host a North Melbourne and GWS Giants contest in Round 13 on June 16. Top your footy highlights with a weekend exploring everything Tassie has to offer—take a guided fly fishing day trip, go mountain biking or just relax and enjoy the craft beers andwhisky.
Targa Tasmania
Start Your Engines
April 29 – May 4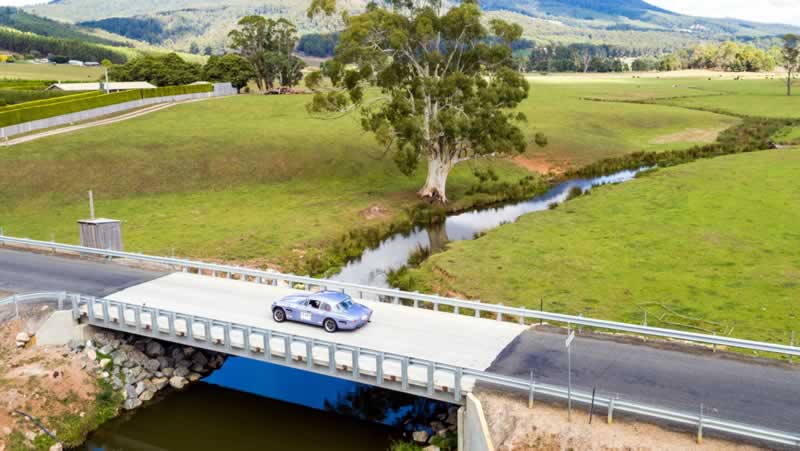 Targa Tasmania is a world-class motorsport event held across Tasmania's most scenic routes and mountain passes. In its 28th year, the event continues to grow, attracting thousands of spectators to vantage points throughout the state. Up to 300 cars are selected to compete on a tarmac rally that covers 2000kms. Over six days, the world's best touring, sports and GT cars battle it out in 40 competitive stages on Tasmania's toughest roads. Spectators can get close to the best of Porsche, Lamborghini, Ferrari, BMW, Lotus and Mercedes Benz. The action starts in George Town in the state's North and makes its way south to Hobart. The competition is staged over six leg and competition categories depend on the car and its capabilities. The event brings together grand touring cars and sports cars from 1900 to today. The event is free for spectators so keep an eye on the website for the best vantage spots.
Breath of Fresh Air Film Festival – Hobart & Launceston
Fresh On The Fringe
Hobart: May 10 – 12
Launceston: May 16 – 19
The Breath Of Fresh Air Film Festival (BOFA) aims to challenge and entertain. Festival screenings will be held in both Launceston and Hobart with 32 documentaries and stories from 16 countries around the world. Opening night in Hobart will feature Under The Cover Of Cloud in Hobart and opening night in Launceston will include the feature film Book Week. The 40th anniversary of the Australian film My Brilliant Career will be shown and director Gillian Armstrong will be a special guest at the red carpet event. Known for its quirky Fringe festival, BOFA will show pop up screenings of four film classic films at a restaurant, a sports store, an army barracks and at Launceston's whisky bar The Grumpy Piper. A full program of films and after parties can be downloaded from the website.
www.breath-of-fresh-air.com.au
Dark Mofo
Into The Dark South
June 6 – 23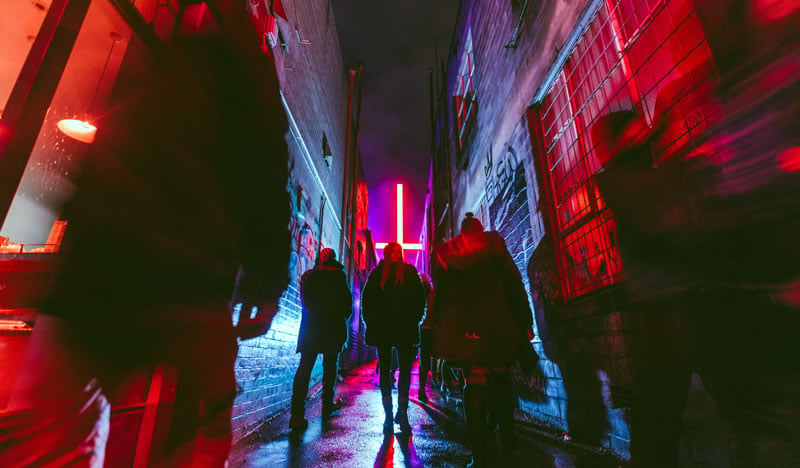 Hobart's Dark Mofo is an annual pilgrimage south for an exhilarating two weeks of public art, music, filmand food. Mona's midwinter festival explores centuries-old Winter solstice rituals and links between ancient and contemporary mythology, darkness and light, birth, death and renewal. A highlight is the Winter Feast staged at Hobart's waterside docks showcasing Tasmania's finest produce along with craft beers and boutique gin and whisky. Dark and Dangerous Thoughts will be back after its debut last year, inspired by Mona's David Walsh. The 'talk-fest' event is two days of intense talks, film and performance. The festival concludes with the Nude Solstice Swim for those brave enough to face the icy waters of the Derwent River sans clothes at sunrise on June 22. Experience last year's event here.
Bay of Fires Winter Arts Festival
June 8 – 10
East Coast Alive With Art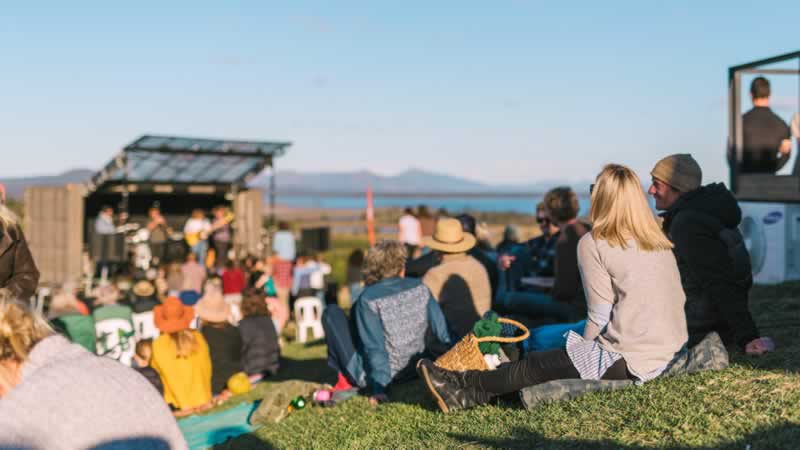 The stunning East Coast of Tasmania will play host to the Bay of Fires Winter Arts Festival in the first weekend of June. Enjoy three full days of art in all forms and genres. Paintings, sculpture, live music, open studios, workshopsand an art market will be dotted around the coast and hinterland. The festival opens with the winner of the $20,000 festival art prize being announced, their work following the theme 'Tasmania'. An exploration of the workshops, dance, fine art, gardens and exhibitions will take you across the Bay Of Fires and Break O'Day region through the northern reaches of the Great Eastern Drive from Four Mile Creek right through St Marys, Scamander, St Helens and Binalong Bay. Pack your car and make the most of East Coast driving – a visual spectacular in itself and voted one of Australia's most scenic drives.
www.bayoffireswinterartsfestival.com.au
Festival of Voices Coastal
June 28 – 30
The Power Of Song
The 15th Festival of Voices will open on the East Coast of Tasmania celebrating the power of song. The festival blends local and interstate artists with folk, rock, rhythm and blues. The Tasmanian Bushland Gardens in Buckland will host ARIA award winning Bustamento, lead by Nicky Bomba. The six piece ensemble will bring upbeat rhythms of the Caribbean covering Calypso, Mento, Early Reggae and Ska. Saturday's farmers market, held at heritage Twamley Farm, will warm you up with an open fire cooking class and acoustic reggae fusion. Climb aboard the Wineglass Bay Cruises with folk act The Dominic Francis Grief Ensemble and the Bicheno Hall will have you singing and dancing with Victorian duo The Stiffys, Indie pop West Victorian rocket Libby Steel and Tasmanian five-piece vocal group the Sandy Warhols. The festivities wind up at Devils Corner and Spring Bay Mill for a laid-back afternoon with Bobby Alu, Karl S Williams and Tassie's own Salee Salter. Experience last year's event here.
For a full and up-to-date listing of Tasmanian events, and information on travelling to Tasmania, visit the Discover Tasmania website www.discovertasmania.com.au.