What's on autumn 2020 – events
The air is crisp, the colours are warm. This autumn in Tasmania holds the promise of seasonal feasts and harvests, artistic expression inspired by the landscape and people, and the turning of the fagus, a spectacle seen only in Tasmania.
Turning of the fagus
Late April-May
Fifty shades of autumn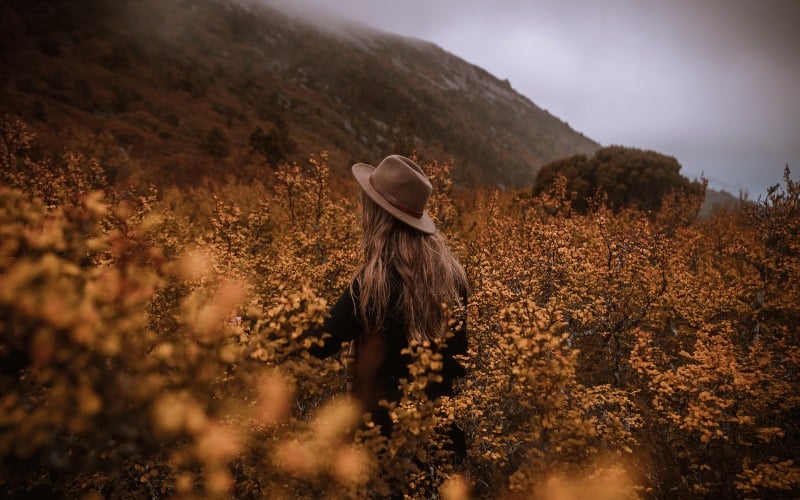 Hunting for the Instagram post of the year? Think fagus. From late April until May, Tasmania's deciduous beech (Nothofagus gunnii, aka fagus) turns brilliant shades of gold, orange and rusty red, creating a unique seasonal spectacle in national parks. The fagus is Australia's only native deciduous tree, and it's found only in Tasmania. Among the most accessible spots to see the turning of the fagus are the Tarn Shelf and Lake Fenton in Mount Field National Park, where glacial lakes are fringed with fagus gold. Fagus also turns on the Dove Lake circuit and the Crater Lake walk in Cradle Mountain-Lake St Clair National Park. To witness this natural phenomenon in its full glory, follow the fagus on Discover Tasmania's social media pages (@tasmania), or phone the national parks.

Go for gold, only in Tasmania, only for (about) a month.
Cradle Mountain Film Festival
3-5 April 2020
Step aside Sundance – this is wilderness on the wide screen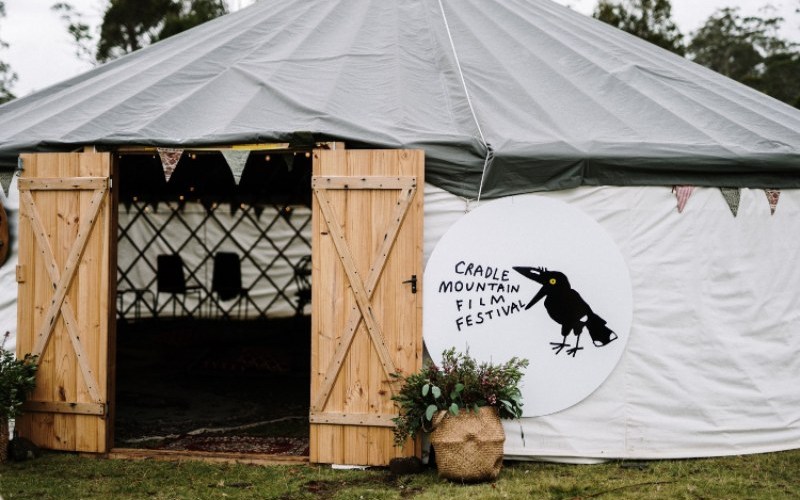 The rugged Tasmanian landscape is a cinematographer's best friend, lending itself to sweeping pans of dramatic peaks, dawn-flushed moors and misty rivers (think Stan's The Gloaming). With a backdrop of the Tasmanian Wilderness World Heritage Area, walk the green carpet to screenings of adventure films shot here and around the world. In tandem with the films is a wellness program that explores sky-bending acro-yoga and cold-water therapy sessions and nature movement workshops. You're guaranteed a good yarn in the warmth of the festival's forest yurts, whether it's Q&A sessions with filmmakers or a DIY adventure storytelling competition. A festival pass ($160+bf) will allow you to drift easily between top events. When creativity and wilderness collide like this, the results are breathtakingly adventurous.

Movies, movement, mountains. Magic. www.cradlemountainfilmfest.com
East Coast Harvest Odyssey (ECHO)
3-5 April 2020
Feast and frolic at a coastal food and wine festival of the senses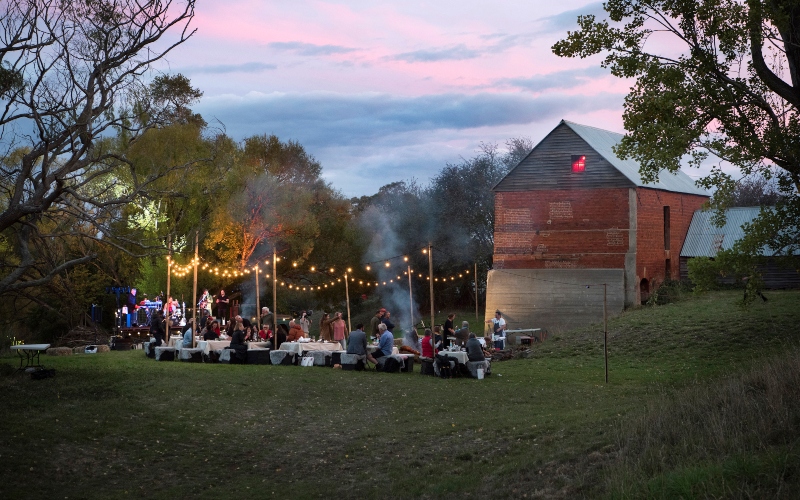 East Coast Harvest Odyssey (ECHO) celebrates the amber season on Tasmania's east coast through food, stories and immersive experiences. The main event is the Native Bounty Feast, prepared this year by Timothy Hardy, whose Tasman Peninsula restaurant Van Bone is expected to open in the coming months. He brings his experience in European starred restaurants and at Victorian regional favourite Brae to a communal feast of local shellfish and sumptuous bush foods, cooked over open coals. Roll up your trousers for the ceremonial Great Eastern Ferment grape stomp for the ECHO Vino 2020 vintage. Come Saturday afternoon, rejuvenate with The Great Eastern Siesta, Tasmania's largest afternoon nap – expect cosy blankets and a bedtime story. Be guided through flights of fine Tasmanian wines and craft spirits by local sommeliers and distillers, with more to enjoy throughout the festival. Wander between interactive artworks, live music and dance installations. Find yourself in tune with the harvest season.

Fireside feast with new friends and fresh food at www.echofestival.com.au
International Mural Fest
12-18 April 2020
Larger-than-life art in a town of murals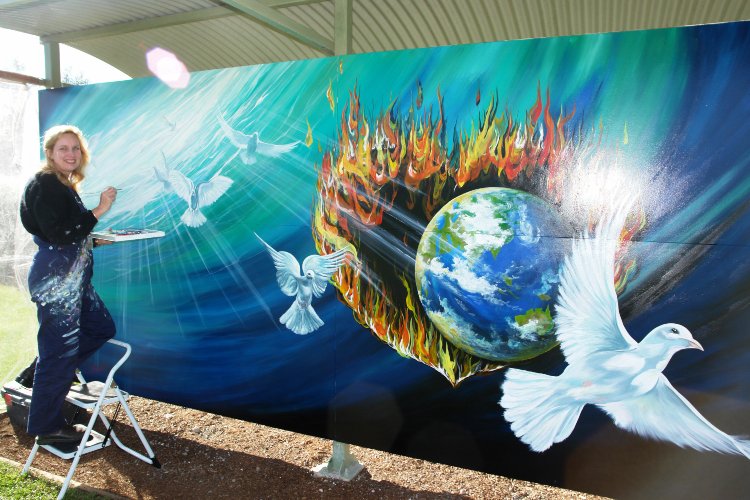 Watch nine artists hit the wall at the annual International Mural Fest in Sheffield, in Tasmania's north-west. The live art competition was the first of its kind in the world when it began in 1986. Artists have a week over Easter to compete in a public "paint off". Each artist, invited to the event, paints a mural 2.1 metres by 4.8 metres inspired by a theme that changes each year. Festivalgoers are encouraged to develop their inner art critic by chatting with the artists and voting for a winner. Now known internationally as Australia's Town of Murals, Sheffield has more than 60 murals in public places.

Discover the artistry of Sheffield, the original mural capital of Australia, at www.muralfest.com.au
Flinders Island Food and Crayfish Festival
15-19 April 2020
A wild seafood feast-ival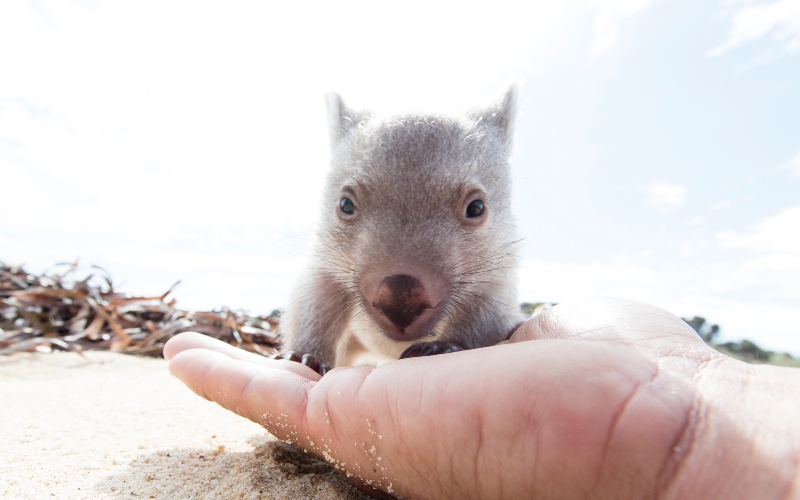 Flinders Island has established itself as one of Australia's leading gourmet islands, and the Flinders Island Food and Crayfish Festival is a celebration of everything that makes it special. Experience the island, meet its people - fishermen, sommeliers, distillers, farmers, chefs, creatives and food lovers – and share a special harvest. Take your pick of degustation lunches, dinners and seafood banquets staged across the island. Activities range from the sophisticated (a private charter to a remote gourmet lunch) to the authentic (a bush-tucker Long Table Lunch prepared by local Tasmanian Aboriginal chefs) to the adorable (a picnic with baby wombats). Between meals, join yoga classes, barefoot bowls, mountain bike tours and scenic treks around the island. And learn the arts of boating, fishing, and diving.

Eat cray love at www.foodandcrayfishfestival.com
Vintage Tamar
29-31 May 2020
A new harvest festival in the north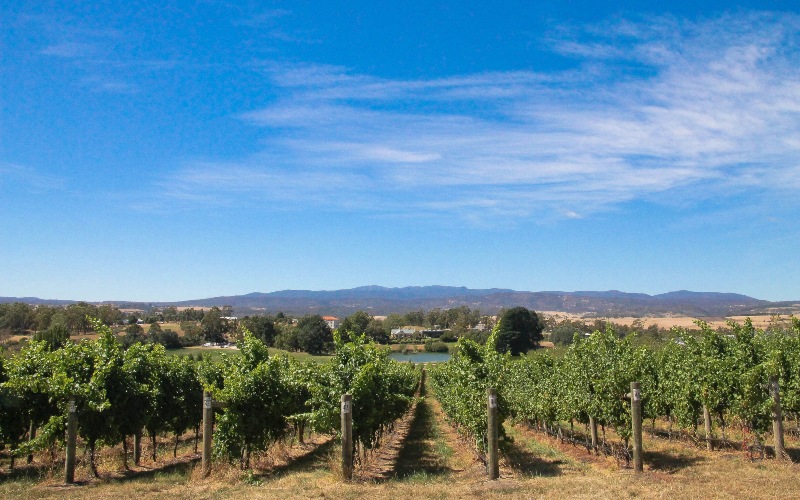 The French wine region of Champagne sits at 41 degrees north. Tasmania's Tamar Valley sits at 41 degrees south. With agricultural and climate conditions on par, Tasmanian bubbles are pretty special. In its preliminary year, in the midst of the region's vintage when grapes being harvested, the new Vintage Tamar festival celebrates its premium cool-climate wines and winemaking culture. Instead of gathering at a festival hub, wine lovers buy a "journey" ticket ($40-$60) and explore the region via a hop-on-hop-off bus service. Each of 22 participating wineries open their cellar doors with local food and performances. Enjoy a drop with winemakers, and hear their stories at dinners, seafood breakfasts, masterclasses, tours and talks. It's first in best dressed, so message your group chat like… right now.


Tasmanian Breath of Fresh Air Film Festival (BOFA)
1-3 May in Launceston and 15-17 May in Hobart
Tenth anniversary of The Tasmanian Fringe Film Festival
The 10th annual Breath of Fresh Air Film Festival (BOFA) weaves eclectic cinematic stories across the north and south of the island. It's a showcase of local and international films with audience participation via short-film competitions, street parties, pop-up fringe screenings in unexpected places, and Q&A sessions with makers after most screenings. New categories include Irish stories, climate action and 2020 Vision exploring ideas of the future. The full program will be announced on 25 March; check the BOFA website for updates.

Come down for (cinematic) air at www.breath-of-fresh-air.com.au