What's new winter 2019 – accommodation
In Tasmania the range of accommodation is wide and these new openings all add something interesting to that mix - a hotel that provides more than just shelter, a secret hotel behind the sandstone facade of Salamanca, a grand old house brought to life. However you choose to travel, our new openings are ready for check-in.
Stillwater Seven, Launceston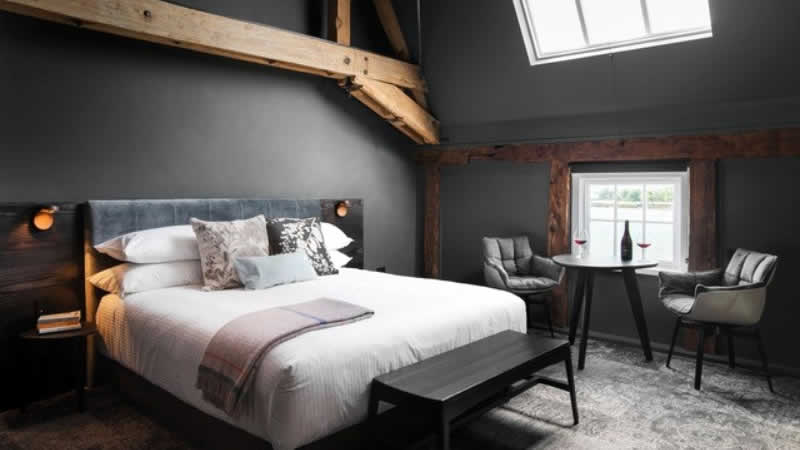 Launceston's award-winning restaurant Stillwater now offers luxury boutique accommodation within its restored 1830s flour mill. Transformed by Cumulus Studio, Tasmania's nationally-acclaimed architecture firm, Stillwater Seven has seven rooms with restful waterfront views and bespoke furniture designed by Tasmanian maker Simon Ancher. Guests have access to a private guest bar and behind-the-scenes access to the iconic Stillwater kitchen. Early morning guests are invited to chat with the chefs on the culinary delights of the day before the restaurant opens. The hotel is a 10-minute walk from the Launceston CBD and only minutes stroll away from Penny Royal Adventures. The in-room pantry, bar and fridges are filled with an extensive range of Tasmanian treats such as cheese, sourdough, local butter and hazelnuts. Each stay also includes an a la carte Stillwater breakfast. Stillwater Seven is uniquely indulgent accommodation featuring the best of Tasmania's food and wine on the side.
More information and bookings at www.stillwater.com.au
Prospect House, Richmond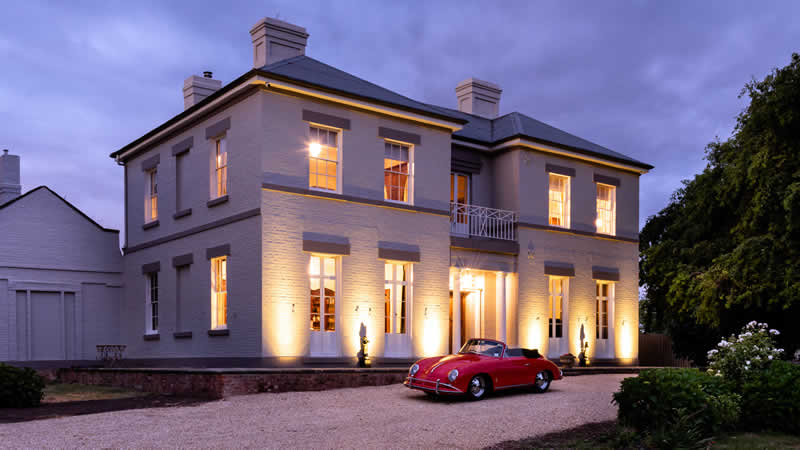 Historic Prospect House is a boutique hotel in the heart of Richmond. The property is in the Coal River Valley wine region and just a 1 km walk from the famous Richmond Bridge. Luxuriously appointed with a homely feel, the hotel has 10 large king and queen courtyard rooms and one private grand suite. Built in 1830, Prospect House maintains the elegance of old with modern touches. Rooms offer WiFi and optional in-room wellness treatments and massage. The hotel's kitchen can prepare a country picnic for you to take on your travels. A cooked breakfast is included in your stay along with afternoon tea and onsite games and activities. Dinner is served in the hotel's dining room featuring the finest Tasmanian produce sourced from the property's garden and orchard and prepared by chef Kurstin Berriman. Prospect House is a 15-min drive from the Hobart Airport and 25 minutes from the Hobart CBD.
More information and bookings at www.prospecthouseprivatehotel.com.au
Moss Hotel, Hobart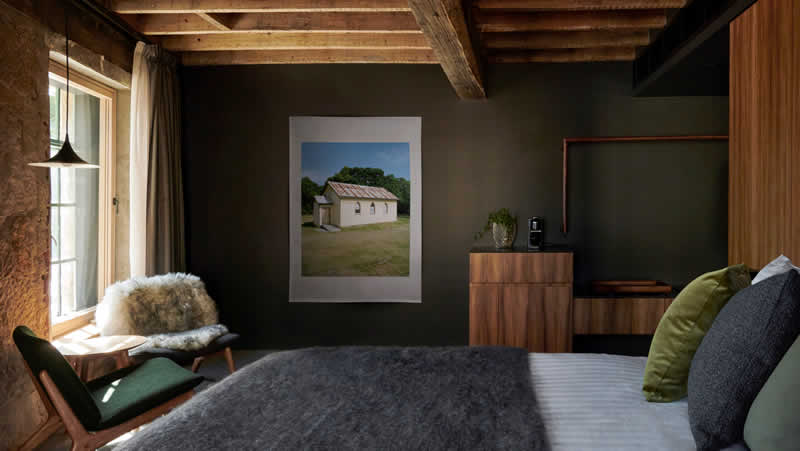 Moss Hotel is a new 41-room boutique hotel set in the historic warehouses of Salamanca Place, behind a Georgian-era facade of sandstone. Experienced hotelier, Rod Black, has been announced as General Manager, most recently managing The Henry Jones Art Hotel. Moss is the newest business venture for the family-owned Behrakis Group. They want their guests to be immersed in all the hotel, Hobart and Tasmania have to offer and have included many Tasmanian touches in the hotel such as the work of local artisans and local products. The rooms have a chequered past - once home to 'traders, whalers, publicans, gentleman and convicts'. Each room features hand-crafted furniture and cushions, luxurious blankets, robes and other amenities.
More information and bookings at www.mosshotel.com.au
Change Overnight Hotel, Launceston
Change Overnight is an 18-room apartment-style hotel in Launceston. The hotel concept is built upon social enterprise. Upon check-in, guests are invited to choose one of eight causes that their stay will contribute to. Among the charitable causes is the Good Shepherd Agricultural Mission, an orphanage located in Banbasa, India where one night's stay contributes to nutritious breakfasts for the children of the orphanage. For guests passionate about the environment, one night's stay can protect approximately 10m2 of land in Tasmania through the Tasmanian Land Conservancy. The hotel features loft, 1,2 and 3 bedroom apartments fitted out with the latest technology and comforts of a modern hotel, including an accessible room. The hotel opens on 1 July and is currently taking bookings.
More information and bookings at www.changeovernight.co
The Granary, Cressy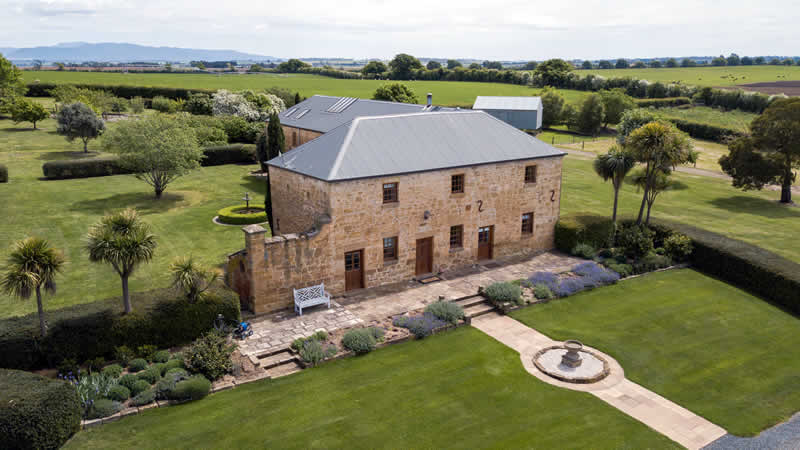 The Granary at Richmond Hill offers boutique heritage accommodation in a spectacular country setting. The convict-built stone building dates back to the early 1800s near the quaint country town of Cressy, a 20-min drive from Launceston. Guests can enjoy the space in the two queen suites and two single beds that are available. A shared kitchen provides equipment for cooking your own meals – to be enjoyed in front of the wood fire in the shared lounge. The dining room seats six people and three large sofas offer cosy respite at the end of the day. Guests are welcome to wander through The Granary orchard and pick fruit from the trees. If you are staying longer than two nights, a complimentary tour of the main homestead garden is available. The Granary and homestead grounds are lined with box hedging with a mix of formal and cottage gardens – and plenty of beautiful oak trees.
More information and bookings at www.granaryrichmondhill.com
Pod Inn, Launceston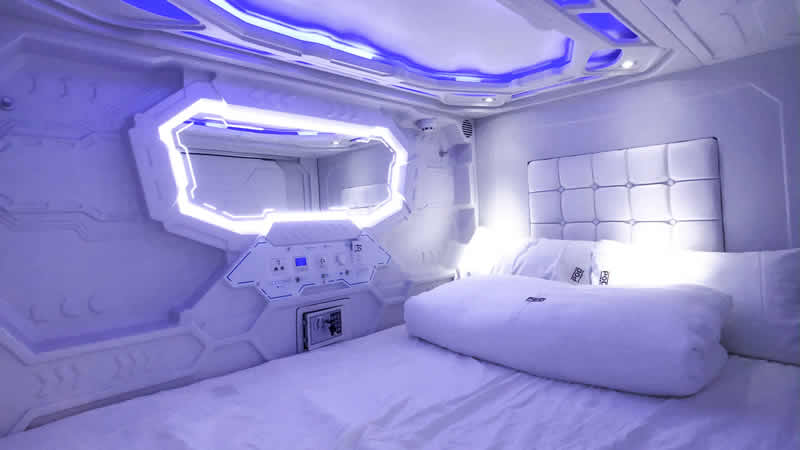 The first capsule-style accommodation in Tasmania has landed. Pod Inn in Launceston offers short-term accommodation in inner-city Wellington Street. Capsule beds are equipped with a pillow, quilt, mattress and linens. Single front entrance capsules are 1m by 2m while superior side entrance capsules are 1.6 m by 2 m. Pods are fitted with swipe card sliding doors, dimmable ambient lighting, backlit mirrors, a safe to lock up your valuables and air conditioning. A locker is also provided to all guests. A single capsule is priced from $39 while a four-bed capsule is $129 a night. The common space at Pod Inn has plenty of seats and a kitchenette for making tea and coffee. Pod Inn is close to a supermarket, food court, Village Cinema and the Launceston Mall. It's a 10-min walk from Cataract Gorge and Penny Royal Adventures.
More information and bookings at www.podinn.com.au
Free Spirit Pods, Bruny Island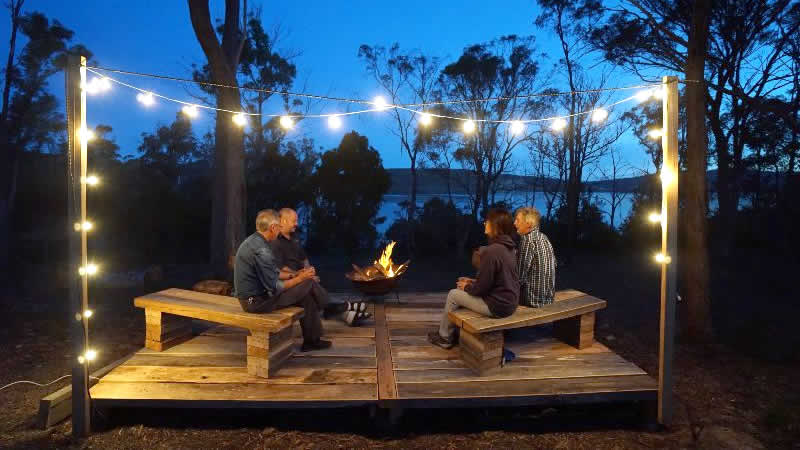 Free Spirit Pods are luxurious self-contained pods on the waterfront at Quarantine Bay, Bruny Island. Set on nine acres, Free Spirit has direct waterfront access. There are two luxury self contained waterfront pods which feature handcrafted sustainable Tasmanian timbers. The open-plan studio-pods, named Flying Duck and Blue Wren, feature double glazed floor to ceiling bi-fold doors leading onto a large private deck. Each pod sleeps two adults, and have room available for up to two children.
More information and bookings at www.freespiritpods.com
Compass Hut, Devonport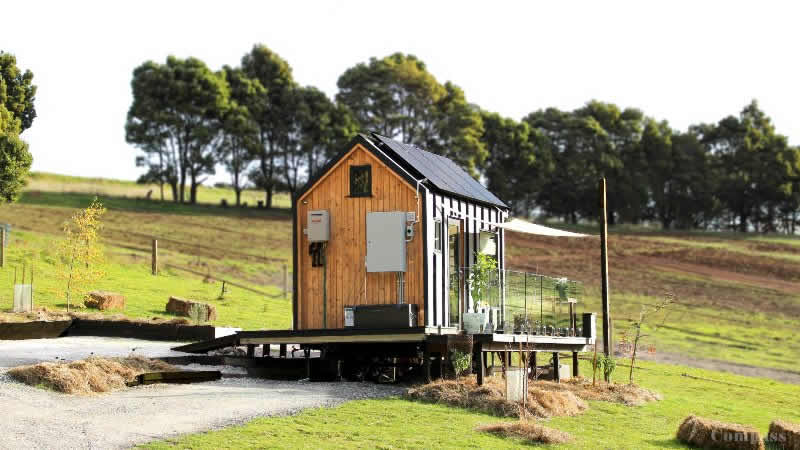 Compass Hut is a self-contained, off-grid tiny house just 10 minutes from Devonport, on the north-west coast of Tasmania. The design draws inspiration from Scandinavian architecture as well as phenomenology, architecture that engages the five senses. The timber hut accommodates two people and has a double-bed sleeping area, kitchenette and bathroom, including a composting toilet. Outside, the hut is on an organic farm and has its own private access and self check-in instructions. Guests are invited to pick herbs, vegetables and fruit from the garden during their visit, as well as focus on their own health and well-being through connecting with nature.
More information and bookings at www.compasshut.com.au