What's new – Tasmanian food tour
Our food and wine culture is booming with new restaurants, cafés, breweries, wineries and distilleries opening everywhere from our city streets and waterfronts, down quaint country lanes and dusty tracks. Grab a car and take a delicious tour of Tasmania – you'll discover where to find the freshest oysters, source local meats and produce, take a swill, and find the finest pastries, coffee and artisan fare Tasmania has to offer.
SOUTH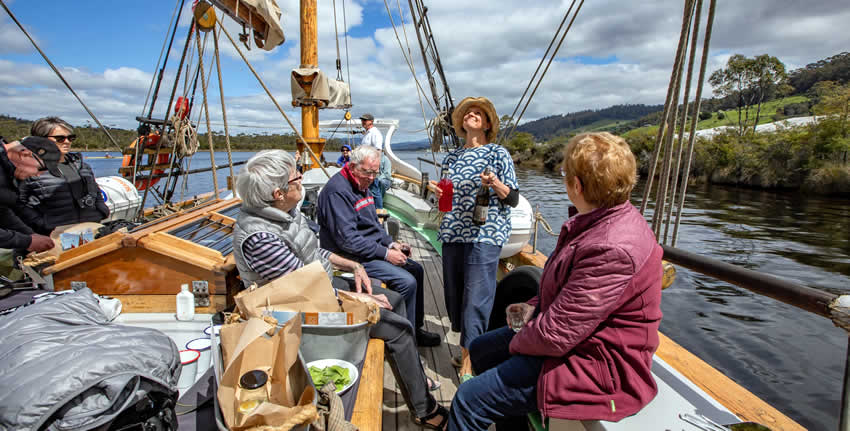 Just 45 minutes from Hobart, the riverside town of Franklin is the place to get a picnic lunch with a difference. Fat Pig Farm Afloat takes in a two hour cruise along the Huon River while you kick back and dine on southern Tassie's finest small batch produce from Fat Pig Farm, run by television chef Matthew Evans. With just three cruises planned (on Sunday 27 January, Saturday 30 March and Saturday 6 April), it's best to book in advance at yukon-tours.com.au/fat-pig-farm-afloat/
WEST COAST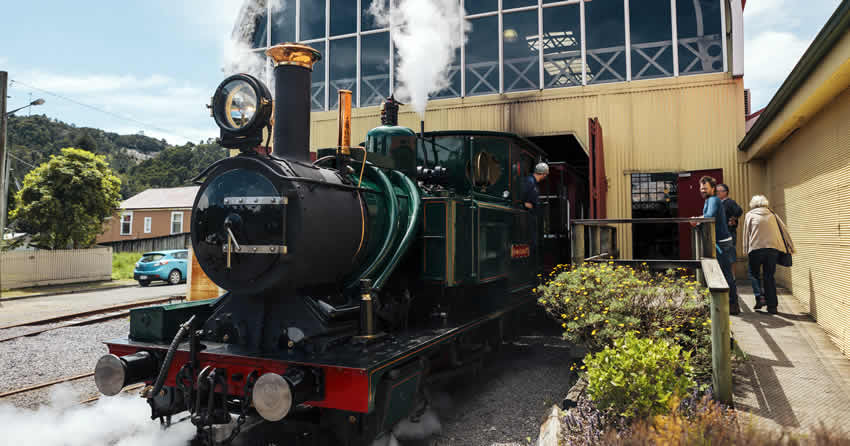 You may be able to spot the West Coast Wilderness Railway making its way between Queenstown and Strahan before you reach its hub. Look out for the tell-tale sign of steam and the noise of the train's whistle and you're on the right track. The WCWR Regatta Point Station in Strahan has a new café and licensed crepé bar so you can fill up before or after your train journey, and you can also now opt for a whisky tasting on the Rack & Gorge Tour for just an extra $10.
The team behind Strahan's Bushman's Café has recently opened Fredericks at Ormiston House, a refined dining experience using locally sourced Tasmanian ingredients. In the kitchen garden they also grow organic herbs, micro salads, heirloom vegetables and selected native plants.
NORTH - CRADLE TO COAST TASTING TRAIL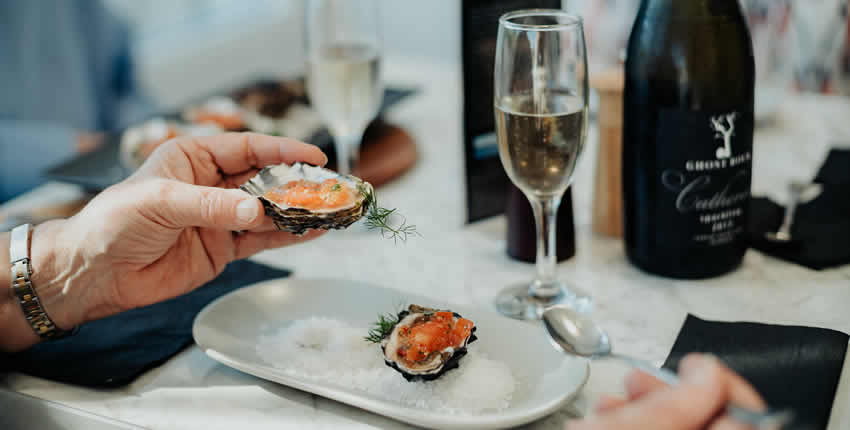 Tarkine Fresh Oysters in Smithton, is a necessary stopover for any seafood lover. Choose from freshly shucked or delicately cooked oysters. Afterward, pop by the gift store for a range of oyster knives so you'll never again have to awkwardly struggle to prise the shells open.
Ulverstone is the new home to Blue Banner pickled onions, where you can have a taste of them at Windows on Westella Café and Pickled Pantry. Don't worry about onion breath though, Blue Hills Honey in Mawbanna and try their honey - it's known for its antimicrobial qualities. Once you've had your fill of honey, check out the farm's Experience Centre to fully appreciate the hard work bees do.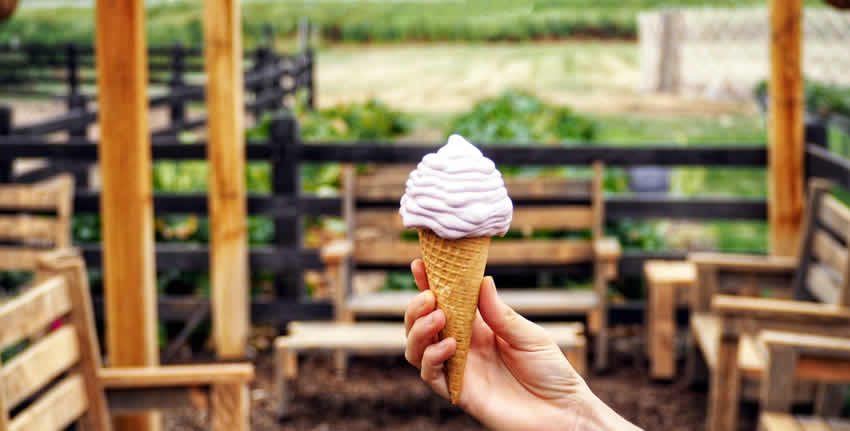 The Berry Patch in Turners Beach lets you loose among the berry patch to pick your own fruit.
If you're craving something more substantial, head to the café to tuck into a wood fired pizza. Enjoy your meal outside, and if you've got kids with you, watch them run amok in the redeveloped playground (complete with a yurt and hay castle).
In Devonport, the Southern Wild Distillery produces premium gins with a distinctly Tassie flavour. Try the Tasmanian Coastal style gin which has aromas of salty ocean spray and seaweed, or the limited edition strawberry gin, made from the excess fruit and has been put to use in this delicious drink. How sustainable!
When driving in the historic town of Westbury keep an eye out for the coloured door of The Green Door Café-Restaurant-Apothecary, behind which lies tasty Cornish pasties and cakes and slices to drool over.
NORTH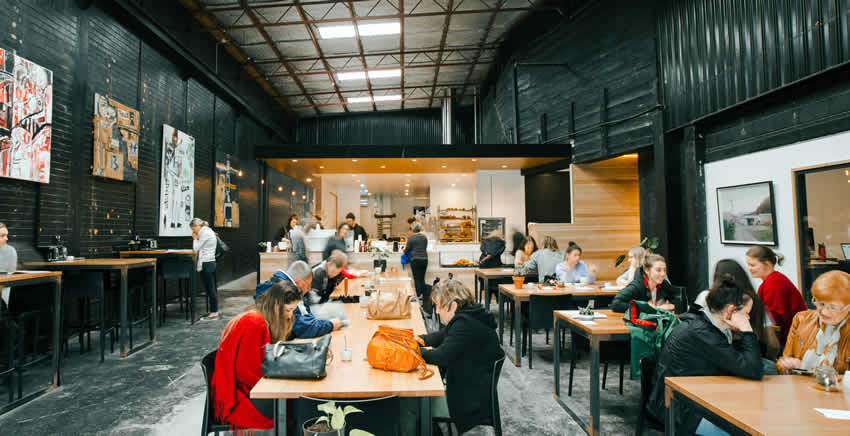 Head back inland to reach the small town of Perth and look out for a white church building with a bright red roof. It houses Saltire Café, which serves up home grown produce and locally sourced foods – try the Tassie platter to graze on King Island cured meats and pear chutney.
Launceston is only a short drive away and offers an abundance of foodie draw cards in close proximity to each other. If it's breakfast you're after, you can't go by the delicious pastries from Bread & Butter, made using 100% cultured butter made on-site. Pick up the Sunday loaf if you happen to be there on the seventh day of the week – each week a new loaf gets a limited run.
Bluestone Bar & Kitchen is a stone's throw away and is open for breakfast, lunch and dinner. Enjoy a drink at the fully stocked bar – the bar snacks go beyond salted peanuts, so give the smoked salmon tacos a try. If the thought of salmon is whetting your appetite, visit Japanese restaurant Kosaten for plenty of seafood options as well as a mix of Tasmanian and Japanese beers and wine.
Don't leave Launceston without stopping by Grain of the Silos to try pork, truffles and cheddar, to name a few of the local heroes on the menu, carefully created by Food Director Massimo Mele.
NORTH-EAST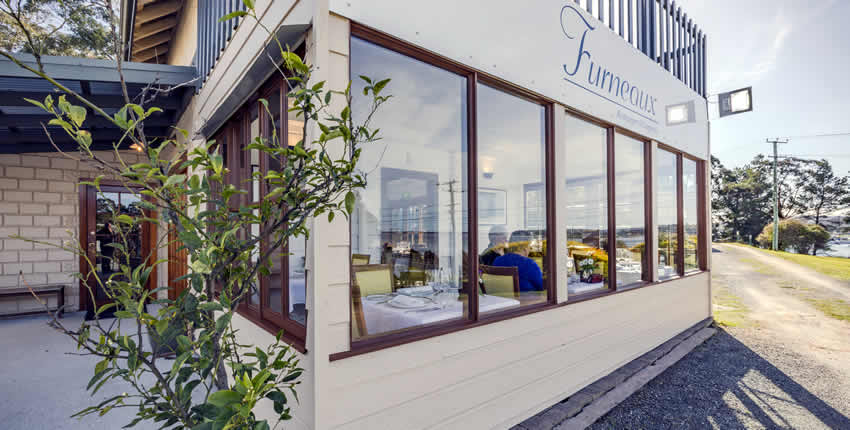 From Launceston, drive across to St Helens to dine at Furneaux, a restaurant with a French/modern Australian flavour. Bookings for lunch, dinner and high tea are essential.
Parkside Bar and Kitchen at the new NRMA St Helens Waterfront Holiday Park is a hit with locals and visitors alike. Even though it has just opened, it's already a hotspot, receiving rave reviews from happy customers who have enjoyed the food and wine during summer, as well as live entertainment on Sunday afternoons.
With its absolute waterfront location, The Wharf Bar & Kitchen is a knockout spot to dine in St Helens. Enjoy both fine dining and take-away for lunch and dinner, or pop in for a caffeine fix with Zimmah Coffee on the menu.
Also in St Helens, Nina Restaurant and Bar offers a delicious melting pot of flavours and cuisines using fresh meats reared on local pastures and fresh seafood from our clean Tasmanian waters. Vegetarian, vegan and gluten free customers are also well catered for.
Just in time to enjoy for summer, The Social Tasmania is all about street food and tapas, good music, a beer garden and al fresco dining. Owners Emma, a local East Coast girl and her partner Mike, a French Canadian have utilised recycled materials to create the fun space in St Helens.
EAST COAST
There's nothing to fear here! Fearless Freddy Café is a proud supporter of local produce and is already popular for casual dining over breakfast, lunch and dinner, or a quiet little drink in the beer garden.
Sandy feet and bathers are welcome at Swims East Coast Coffee, a repurposed shipping container where lunch of toasties, muffins and Villino Coffee is served up by enthusiastic young owners Sean and Caitlin beside the awesome view.
If you're hankering for lobster, you'll be in heaven at The Lobster Shack in Bicheno. As well as lobster, you'll find local prawns, salmon, octopus, mussels and oysters on the menu. Eat by the waterfront for the ultimate seafood experience. Also in Bicheno, try Little Bay Patisserie, and be sure to save room for a croissant (or two).
Down to Swansea, call in at the Fire & Ice Café for a caffeine hit and a filling burger meal. Head next to Triabunna to pick up a gourmet Maria Island lunch pack from Colonial Food & Wine. You don't need to be headed to the island to enjoy the feast or a glass of Tassie wine, gin or whisky – there's seating room inside the restaurant so stick around if you have time.
Eastcoaster Resort is close by in Orford, having recently been refurbished with a new café added. It's a family friendly venue with a relaxed atmosphere for you to enjoy your burger, schnitzel or, should you yet to have eaten your weight in it, seafood. Orford is an easy hour drive from Hobart and a great location to wrap up your Tassie tasting tour.