What's new summer 2022
Across Tasmania, there are exciting new openings this summer.
Architectural coastal houses, crafted boutique cabins and new cosmopolitan complexes are just some of the reasons travellers are excited to be welcomed back to Tassie.
New experiences in food and wine, kayaking and wellness continue to add abundance to our island. Here are our top picks:
The Point
Architect's delight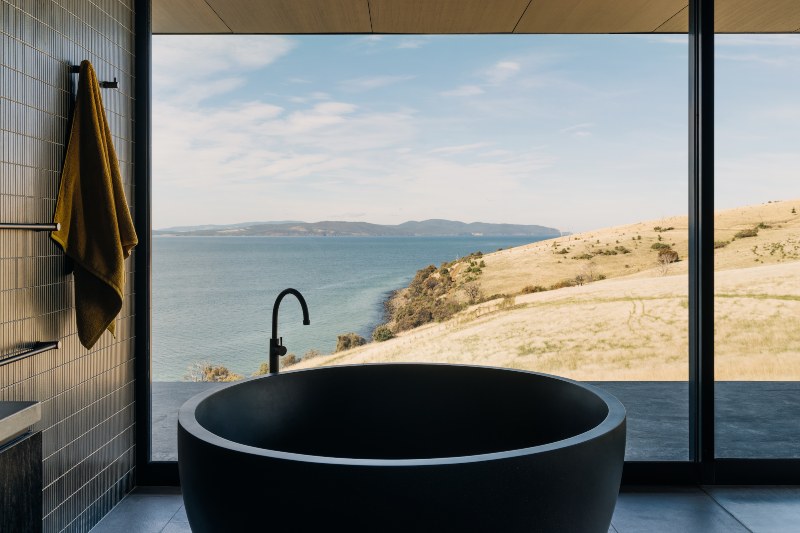 The Point. Photo: Adam Gibson
In a quiet corner of the South Arm Peninsula sits a newly appointed waterfront retreat on 50 acres of rugged Tasmanian farmland. The Point is discreetly nestled on the hillside overlooking Frederick Henry Bay and May's Point – a secret surf break popular with local grommets.
The house itself is an architectural showpiece of generous proportions with considered contemporary finishing touches. The glass-enclosed living spaces allow you to witness the glorious movement of the sun across the bay and when it settles behind kunanyi / Mount Wellington at dusk.
Discover the gems of outer Hobart using the luxury pad as your base, or simply stay and enjoy all that the location has to offer. The Point is close enough to enjoy the attractions of Hobart (only 20-minutes away) whilst having the feel of a remote escape.
The Voyager
Storytelling through spaces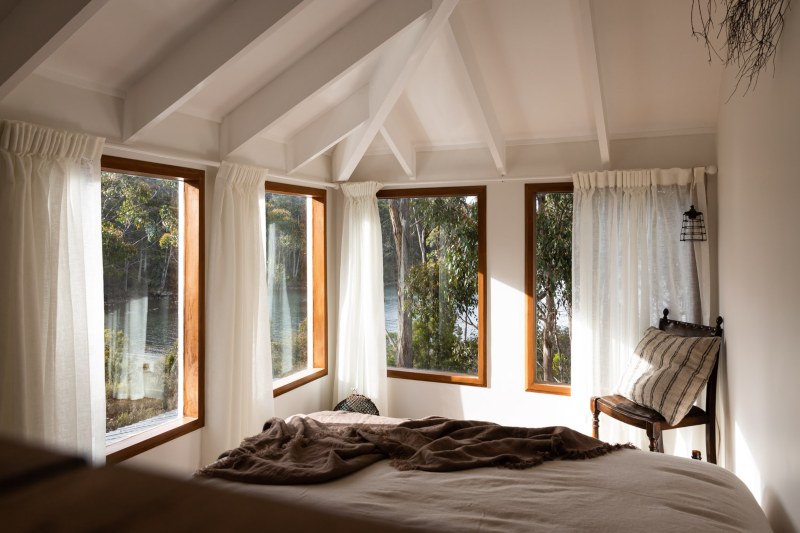 The Voyager. Photo: Lean Timms
A secluded wilderness experience on the water's edge in Tasmania's far south region. Thoughtfully created The Voyager is a bush sanctuary, a place for calm and stillness with homely comforts and touches of luxury full of hidden stories.
Each of the four queen sized rooms have been carefully designed with storytelling at the heart, inviting the imagination.
The cosy stay is complete with fluffy linen and cloud-esque mattresses for deep rest. Soak in the clawfoot tub inside, or out. Guests can cook up their own feast or have room service from the local River Run Tavern.
The Rox
Hobart's Midtown 'Rox' up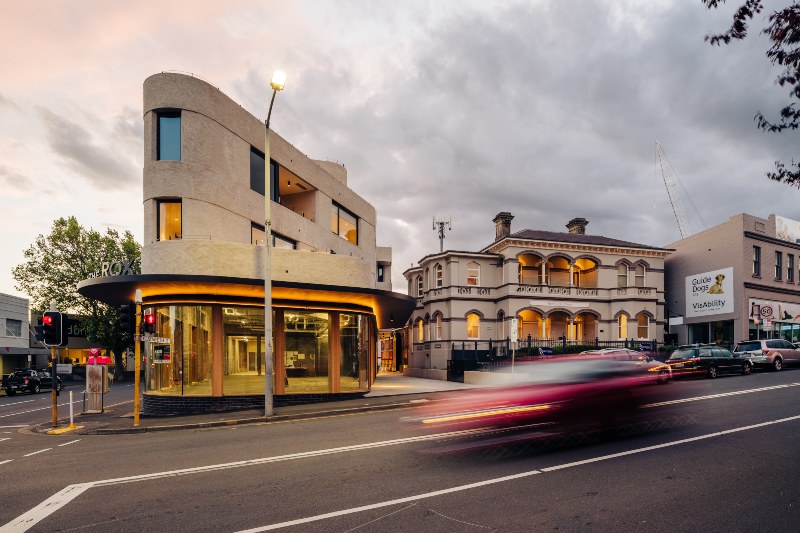 The Rox. Photo: Adam Gibson
The Rox is Hobart's newest mixed-use accommodation venture. Once a hidden and dilapidated corner of Hobart's historic Midtown precinct, now a suite of luxuriously appointed apartments serving old and new glamour.
The Rox is the culmination of an extensive redevelopment and restoration process. Designed by Core Collective Architects with interior finishes by Tess Newman-Morris (known for her work on Satellite Island), the apartments showcase Tasmania's top furniture makers, designers and potters.
Choose from two different styles of stay, a sleek and sophisticated contemporary offering in the new development or a tasteful apartment conversion in the original heritage building.
Guests have exclusive access to room service from Hobart's most coveted Italian inspired wine bar, Sonny. Settle in with pasta and pinot at your stylish city hub at the end of a day's adventures.
Triabunna Barracks
Lovingly restored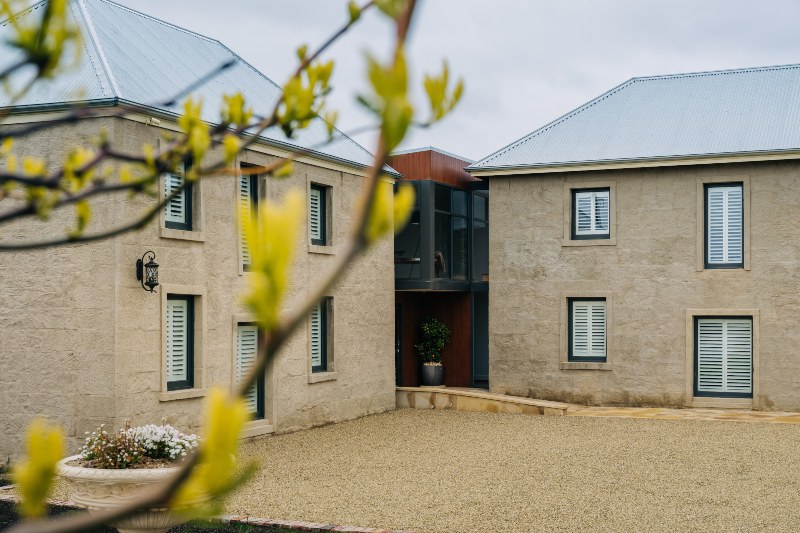 Triabunna Barracks. Photo: Adam Gibson
A converted Georgian stable turn contemporary luxe, Triabunna Barracks is a redeveloped 1840's sandstone building curated with care.
Once two, unloved, heritage buildings overlooking the Triabunna wharf, the barracks have been transformed into high-end accommodation.
Each suite is fitted with a kitchenette and luxe bathroom, and the warmth of heated floors and Tasmanian organic bath products add that extra bit of comfort.
The properties are solar powered with heat recovery ventilation and an electric vehicle charger onsite for the environmentally conscious traveller.
The Triabunna Barracks makes the perfect home base for east coast exploration with the popular Maria Island and the Cranbrook wine region nearby.
Secret Bank Society: The Bank at Ringarooma
History, drama, theatre, quirk and character
Feed your curiosity with a stay at the mysteriously intriguing Secret Bank Society in the unassuming township of Ringarooma in northeast Tasmania.
Take a step back in time to a curated historical stay precisely decorated with detail and charm in the heart of the Tasmanian wilderness.
Ringarooma is a central location for nearby walks at Mt Victoria, Mt Saddle Back and Mt Stronach. You can also visit Ralph Falls, ride the world-class mountain bike trails at Derby or soak up the heat at the Floating Sauna. The local Ringarooma River is great for gem fossicking or platypus spotting.
Transport yourself back in time with mysterious old-world charm.
The Secret Bank Society Ringarooma
Launceston Kayak Tours
Paddle kanamuluka / River Tamar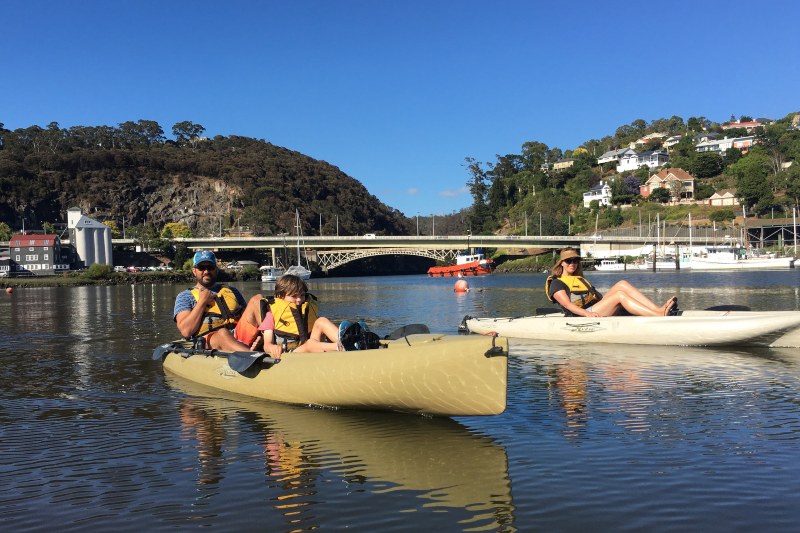 Launceston Kayak Tours. Image Supplied
Launceston's scenic Gorge is the centrepiece of the town, a unique natural formation that is a meeting ground for the community past and present.
Experience Launceston from the water by taking a 90-minute kayak tour. Travel through the scenic waterfront, marinas, and the lower reaches of the Gorge where the Esk River flows through the cliffs to meet the Tamar.
Find upper body exercise a struggle? No worries. Hobie kayaks use pedal power, meaning your hands are free to steer, photograph or fish. Perfect for little ones to join in the fun.
It's $60 for adults and $40 for 16 and under, with single and double kayak options available.
www.launcestonkayaktours.com.au
Mewstone Wines
D'Entrecasteaux drops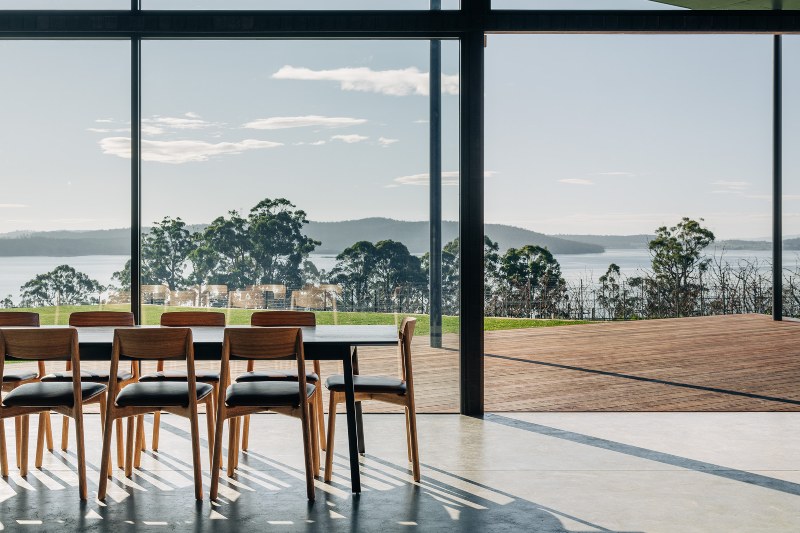 Mewstone Wines. Photo: Adam Gibson
Mewstone Wines have opened their new cellar door 40-minutes south of Hobart in farmland overlooking the D'Entrecasteaux Channel.
Situated in the romantically named rural locality of Flowerpot, the vineyard's gently north-facing slopes capture the cool southern sunshine to produce premium winemaking grapes.
Winemaker Jonny mastered his craft in Australia, New Zealand, Italy and Canada before heading back home to Tasmania. Formerly the Assistant Winemaker at Moorilla, he has branched out to start his own venture.
Pay a visit to the Tasting Room to sample the pinot noir, chardonnay and riesling grapes grown onsite. For $25, enjoy a flight of eight pre-selected wines in a hosted experience (for groups up to six).
Make sure you try the hughes & hughes label. A playful, lo-fi range that allows for experimental practices obtained from Jonny's global travels. A staple at Hobart wine bars.
Arc Pavillion
Small and smart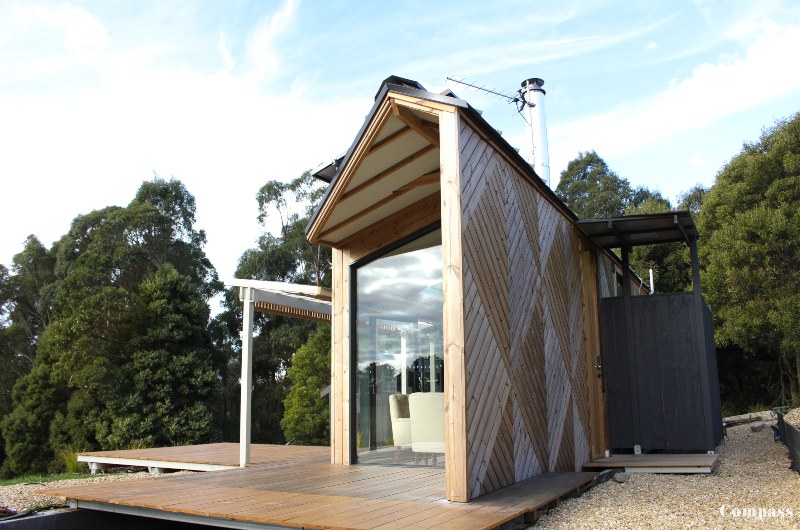 Arc Pavillion. Photo: Kylie Bell
Arc Pavilion is a brand-new, sustainable build on Tasmania's north west coast. The seven metre, eco tiny house on wheels (THOW) is clad in Scandinavian, geometric timber exterior, and boasts outstanding countryside views towards the Bass Strait channel.
The self-contained tiny house sits next to Tasmanian bushland on a certified organic farm with the option for guests to help themselves to a daily harvest from the vegetable garden.
Completely reconnect with the outdoors surrounded by large deck areas, outdoor dining, a yoga deck and garden spaces.
The project has been handcrafted and curated with custom made furniture, artwork, and contemporary interior design.
Arc Pavilion | Compass Hut | Tasmania
Pumphouse Wellness Retreats
Tasmania's first luxury wellness retreat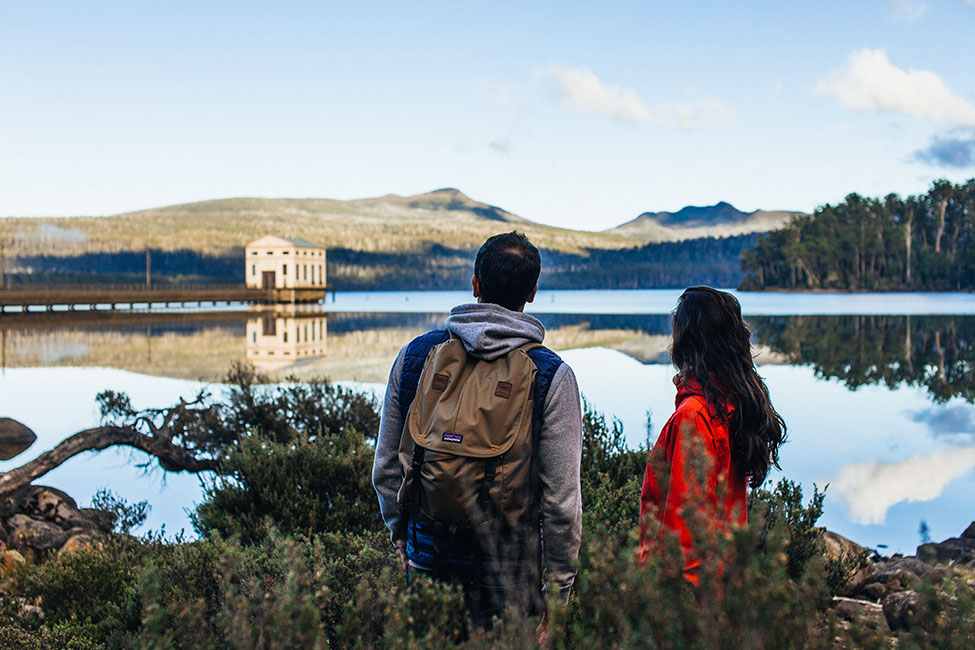 Pumphouse Point. Photo: Adam Gibson
Tasmania's iconic boutique wilderness retreat, Pumphouse Point, has launched a series of seasonal wellness retreats for 2022 in Lake St Clair National Park.
The first of their kind in Tasmania, the nature-based wellness retreats offer three and four-night stays guided by notable wellness specialists whilst being immersed in natural wilderness.
The retreats will include daily breathwork and meditation sessions, yoga, mindfulness and stress management presentations, digestive health workshops and cooking demonstrations.
The next retreat will run from February 25 – March 4 2022 with rooms starting from $3582 for three nights.
---
For a full and up-to-date listing of Tasmanian accommodation and information on travelling to Tasmania, visit the Discover Tasmania website www.discovertasmania.com.au