What's new spring 2021 – food & beverage
Osteria Vista, Derwent Valley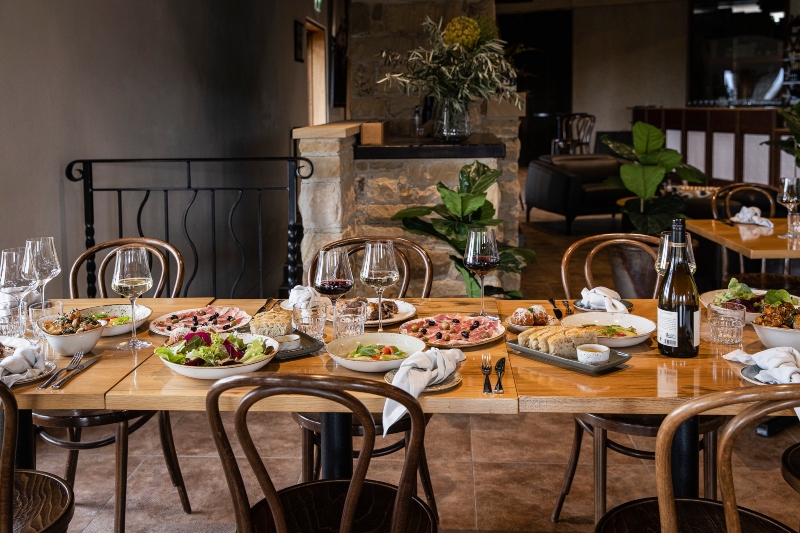 Osteria Vista, Derwent Valley. Photo credit: Derna Bond
Unwind and feast over a rustic Italian long lunch overlooking the rolling hills of the Derwent Valley.
Stefano Lubiana Wines has launched Osteria Vista, a $65pp four-course set-menu degustation offering across lunch Friday, Saturday and Sunday.
From antipasti to dolci, take it slow from booking time until 3.00pm. Bask in the sun on the terrace, taste the Lubiana wine selection and enjoy all things simple, slow and Italian.
The Still from Lark Distilling Co., Hobart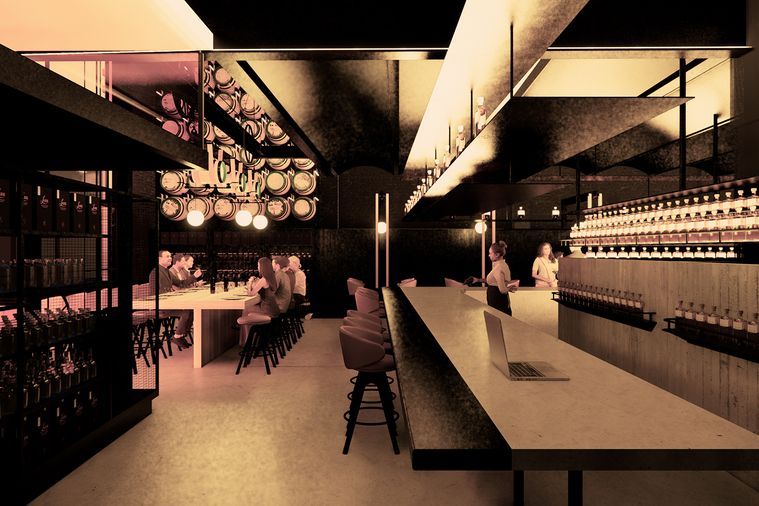 The Still from Lark Ditillery Co., Arglye Street, Hobart. Photo courtesy : Lark Distillery
From the pioneers of Tasmania's whisky industry comes a new spirit hub in the CBD. The Still will serve a top selection of 150 local whiskies by measure or bottle alongside familiar favourites and a curated cocktail list.
Explore world-class spirits in the tasting bar or intimate whisky lounge, revolving around a centrepiece of Tasmanian whisky history – the original Lark Distillery Co copper, still used by Bill Lark himself.
Peruse the Tasmanian whisky hall of fame as you raisea dram to the new wave of Tasmanian spirits. Opening late Spring 2021.
Seven and a Half, Hobart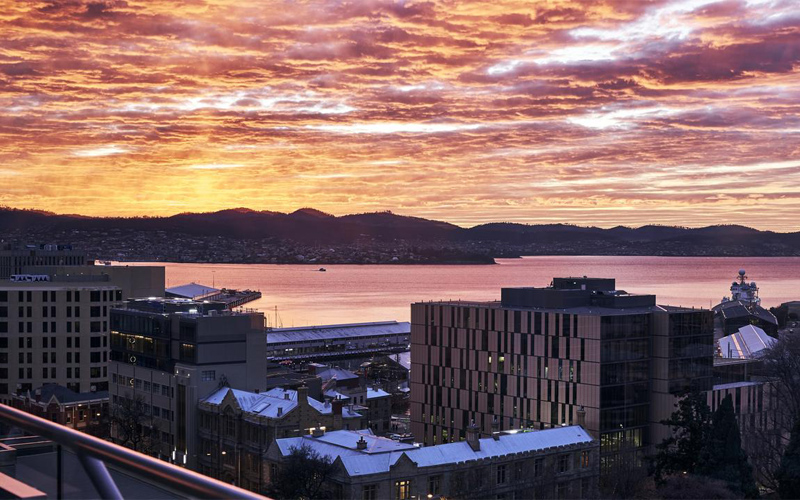 Seven and a Half. Photo credit: Luke Burgess
The tiny-diner movement gathers pace with the opening of Seven and a Half, a 10-seat dining experience by acclaimed chef and photographer Luke Burgess.
Named for its position in the building, the rooftop "pod" has harbour views high above Macquarie Street in central Hobart. Burgess says his dining room is inspired "in part by times spent dining high above Tokyo, in the most unlikely of spaces".
He's taking bookings for leisurely Sunday lunches, and plans for special events include "dark sky" and full-moon dinners with Dark Sky Tasmania.
Keep an eye online, as other events and dining options will be added as Luke settles into the space. Dates will be released 30 days in advance.
Ashgrove Dairy Door Visitor Centre, Elizabeth Town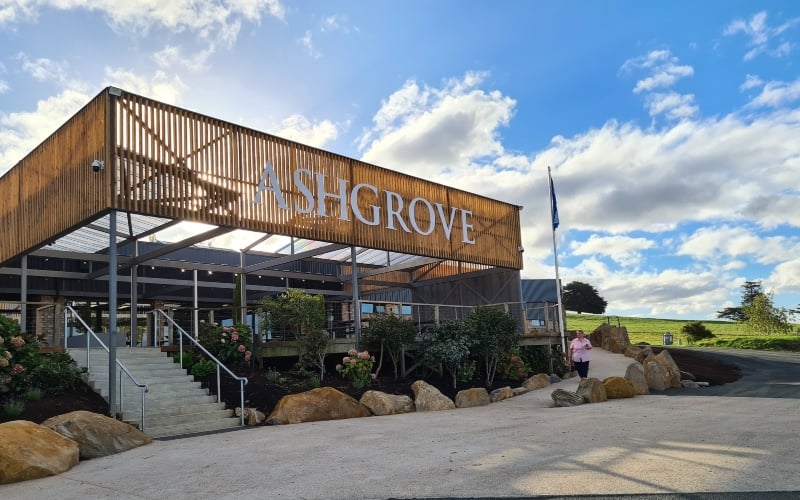 Ashgrove Dairy Door Visitor Centre, Elizabeth Town. Photo courtesy : Ashgrove Cheese.
An essential stop along the Cradle to Coast Tasting Trail, Ashgrove Cheese has opened a new visitor centre and eatery.
At the Dairy Door, watch the cheesemakers in action behind glass panels and learn about Ashgrove's pasture-to-plate operation. Take a tour, stock a picnic hamper, sample a cheese flight or indulge in truffle fondue.
King Island Brewhouse, King Island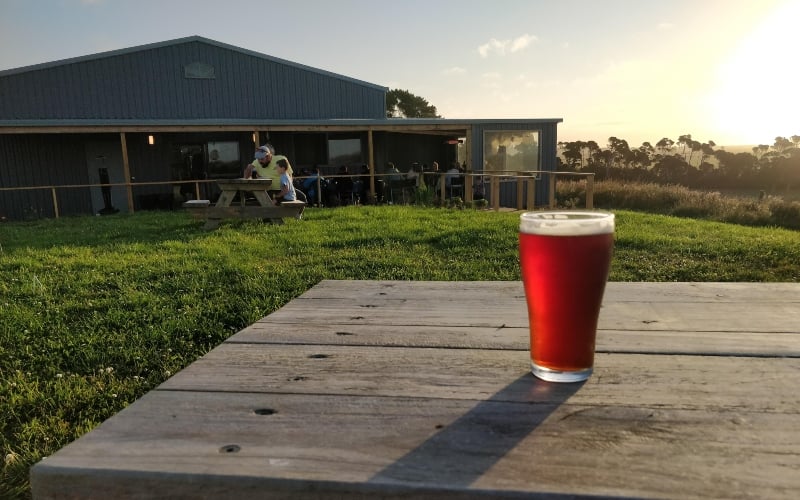 King Island Brewhouse, King Island. Photo courtesy : King Island Brewhouse.
Tasmania's most remote brewery, King Island Brewhouse, captures the liquid essence of King Island in every bottle.
Fresh island rainwater begins the brewing process, and both the ferment and brewery are backed by a world-class hybrid wind and solar-powered energy system.
Surrounded by rolling hills and lush farmland, the newly built brewhouse, 15 minutes' drive from the island's main town of Currie, is a project driven by a passion to share quality fresh beer with King Island locals and visitors.
King Island Distillery, King Island
For the past six years, King Island Distillery owner Heidi Weitjens has learned from the best spirit distillers in Tasmania, so it should come as no surprise that her first commercial batch of native gin was awarded a silver medal at the 2020 Australian Gin Awards.
Heidi is the driving force behind Tasmania's northernmost distillery and uses local native ingredients to distinguish this tipple of choice. The process starts in her custom-designed copper stills, nicknamed her "copper angels", using pure King Island water.
Western Tiers Distillery, Meander Valley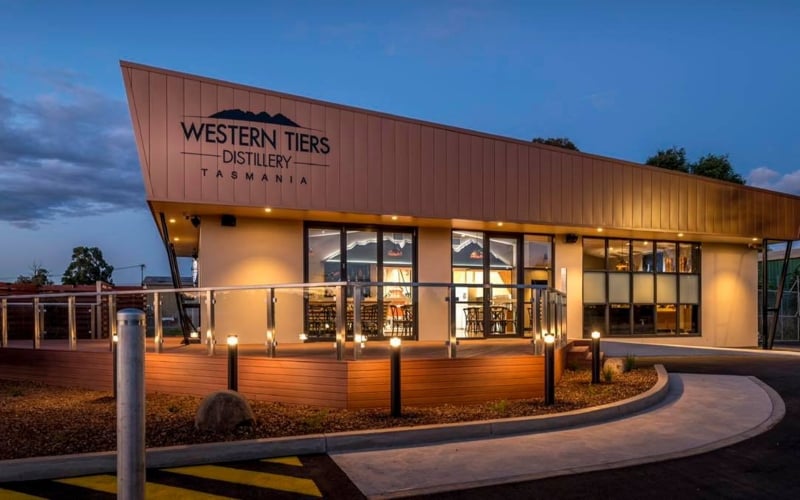 Western Tiers Distillery, Westbury, Meander Valley. Photo courtesy : Western Tiers Distillery.
Stillsmiths, Mark Kolodziej and Tim Freeman had been busy supplying premium distillation equipment to Tasmania's booming spirit industry for years, all the while harbouring the dream of opening their own distillery.
Enter – Western Tiers Distillery, opening in the historic village of Westbury in 2021. Nestled under the Great Western Tiers, Mark and Tim source the essential elements from the region – water from the highland lakes and botanicals from the Tiers – to produce a range of premium Tasmanian spirits.
Lunch and distillery tours are available.
www.westerntiersdistillery.com.au
Turner Stillhouse Distillery Tours, East Tamar Valley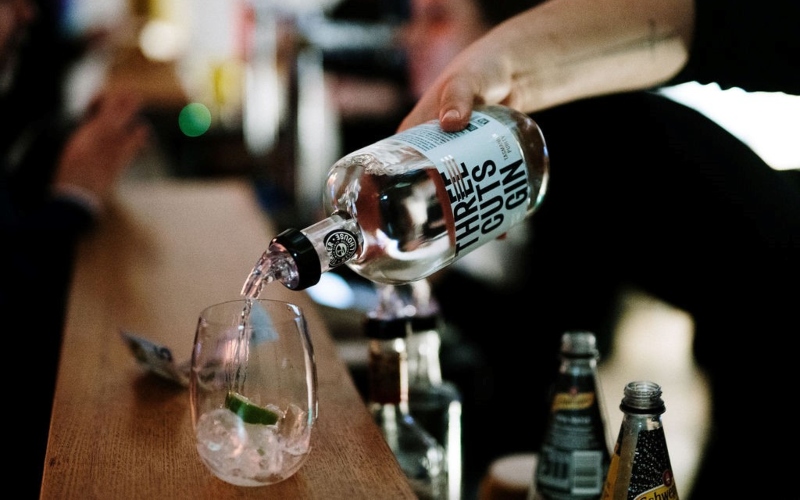 Turner Stilhouse, Grindelwald, East Tamar Valley. Photo courtesy : Turners Stillhhouse.
The Turner Stillhouse's Three Cuts Gin recently won best international contemporary gin and received a double gold medal at the prestigious American Distilling Institute's Judging of Craft Spirits annual competition.
Turner Stillhouse is a small batch craft distillery based in Tasmania's iconic Tamar Valley. Justin Turner founded Turner Stillhouse to fuse the art of craft spirits and modern technology. He brings creativity to his recipes and a unique American approach, while working within the tradition of fine Tasmanian distilling.
The gin is carefully distilled from a premium grape base, pure Tasmanian water and a blend of Tasmanian grown and internationally sourced botanicals. Visit for tastings, tours and cocktails.
Lupin Food and Wine, South Hobart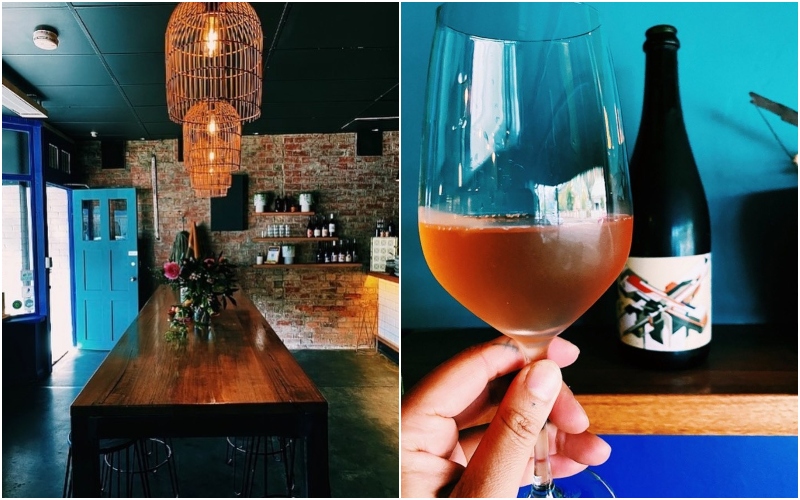 Lupin Food and Wine, Cascade Road, South Hobart. Photo courtesy : Lupin Food and Wine.
Hobart's hippest suburb just got its first wine bar. Serving up natty wines, good beats and delicious small plates, Lupin Wine Bar adds evening vibrance to the Cascade Road brunch strip.
Lupin is open from 2pm on weekends and 3pm on weekdays.
www.facebook.com/lupinfoodandwine
Clover Hill Beyond the Bench Experiences, Pipers River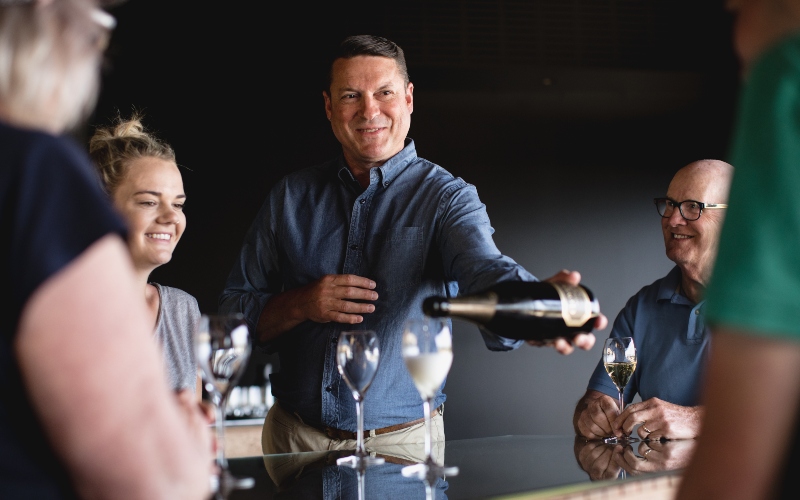 Beyond the Bench Experiences, Clover Hill Wines, Pipers River. Photo courtesy : Clover Hill Wines
Go 'beyond the bench' with curated experiences from Clover Hill and discover the characteristics that embody exceptional sparkling while learning about the craftsmanship and winemaking philosophy behind the brand.
Structured tastings take wine-lovers on a guided journey through the evolution of the award-winning Clover Hill portfolio. There are four new packages to choose from. The Clover Hill Museum Benchmark Tasting provides insight into the aging evolution of sparkling wine. The Principals of Pinot Noir Masterclass explores the alluring properties of pinot noir, providing insight into this humble grape. The Chocolate, Cheese and Sparkling – An Indulgent Pairing Class matches three of life's little luxuries. The Dosage Masterclass invites guests to experience the intricacies of winemaking, as they blend and manage the dosage process to re-create the Clover Hill Cuvée varieties.
Stillwater x Unique Charters wine tour packages, Tamar Valley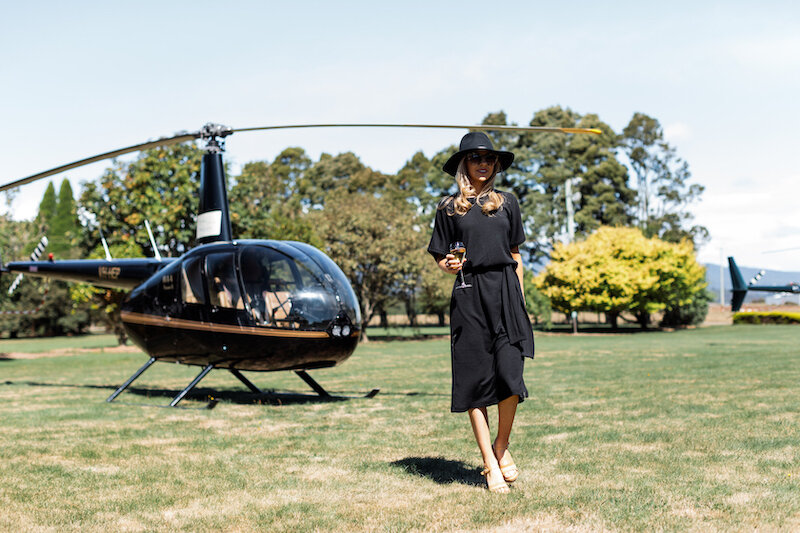 Stillwater x Unique Charters wine tour packages, Tamar Valley, Northern Tasmania. Photo courtesy : Unique Charter Tours.
Launceston's luxury boutique stay, Stillwater Seven, has partnered with Unique Charters to offer a helicopter wine hop curated by Stillwater sommelier, James Welsh.
Available exclusively to Stillwater Seven guests, become acquainted with Northern Tasmania's top drops by air and meet the winemakers on James' hot list.
First stop Sinapius, an innovative and exciting boutique Tasmanian winery in the heart of the Tamar Valley. Next up, celebrate a classic Tasmanian sparkling with Apogee winemaker Andrew Pirie. Finally head north-west to Ghost Rock Vineyard where you will finish with a locally sourced 2-course lunch. A day of complete indulgence accompanied with Tasmanian wine and scenery at $1400 a pop per person.