What's new spring 2021 – experiences
A suite of experiences have launched around the island just in time for Spring. Here's our pick of new things to do in Tasmania:
Walk into Luxury – Pumphouse Point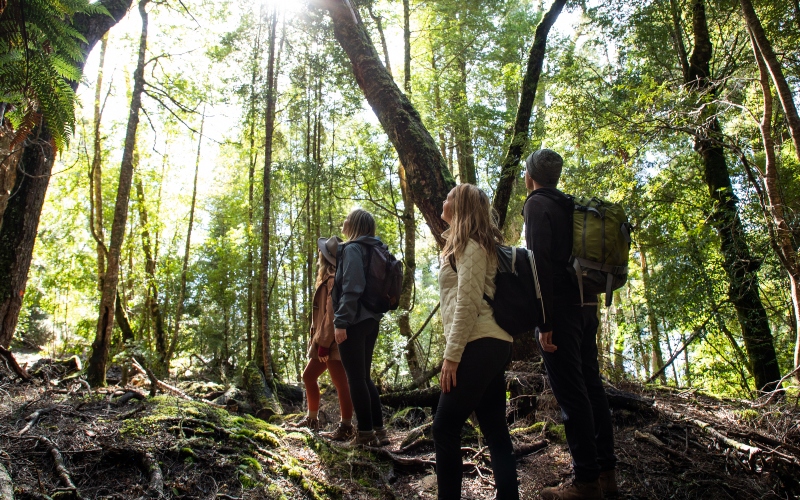 Natasha Mullhall, guided walk at Pumphouse Point
Spend cosy nights at Pumphouse Point and sparkling days walking at Lake St Clair and nearby Mount Field National Park with tour operator Walk into Luxury. Departing Hobart, first stop is beautiful Russell Falls and then a hike past alpine lakes and tarns on the western side of Mount Field National Park. For the next few days, explore the Cradle Mountain-Lake St Clair National Park with guided walks. Spend the evenings around a shared table for three-course meals with Tasmanian wine, before retiring by the fire in the striking restored industrial pumphouse perched on the lake.
walkintoluxury.com.au/lakestclairwalk
Wild Wellness Method
Chris Crerar, Wild Wellness Method in action at Three Capes Lodge
An Australian first, the Wild Wellness Method takes the best of the traditional wellness model and brings it into nature's office, including Wim Hof dips with a qualified practitioner, fireside journaling and meditation among towering eucalypts.
Yoga, art, writing and photography are among the special interests developed in a raft of new expert-led retreats by the Tasmanian Walking Company at its celebrated remote lodges. Among these special events is a partnership with Wild Wellness, a retreat at the Three Capes Lodge Walk focused on the restorative power of nature, meditation, writing and cold-water immersion.
If you don't have time for a multi-day adventure, try The Fire & Ice Walk and experience a different perspective of kunanyi/Mount Wellington. The day walk connects guests to the mountain through storytelling, breathwork, fireside journaling, and if you dare, icy plunging.
Eat the Wild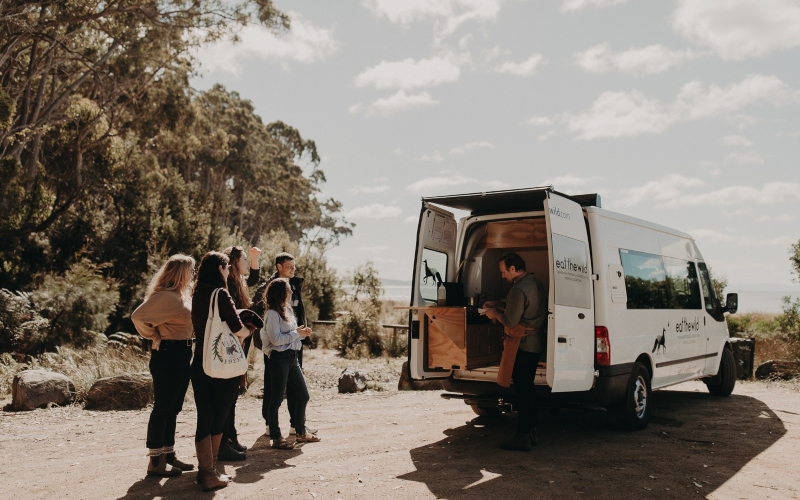 Image supplied, Eat the Wild food tours
A tour bus turns into a mobile kitchen on tours with Eat the Wild. Owner Josh Phillips multi-tasks as personal chef, driver and tour guide on day excursions from Hobart, turning old barns, winemaking sheds and beauty spots into impromptu dining rooms. Two bespoke tours are on offer.
Beyond the Cellar Door takes you into the winemakers' world of the Coal River Valley Wine Region, with a degustation food experience along the way.
Bruny Island is a day trip of exploring hidden beaches, temperate rainforest, observing wildlife and feasting on gourmet island produce with the wilderness as your restaurant.
Sirocco South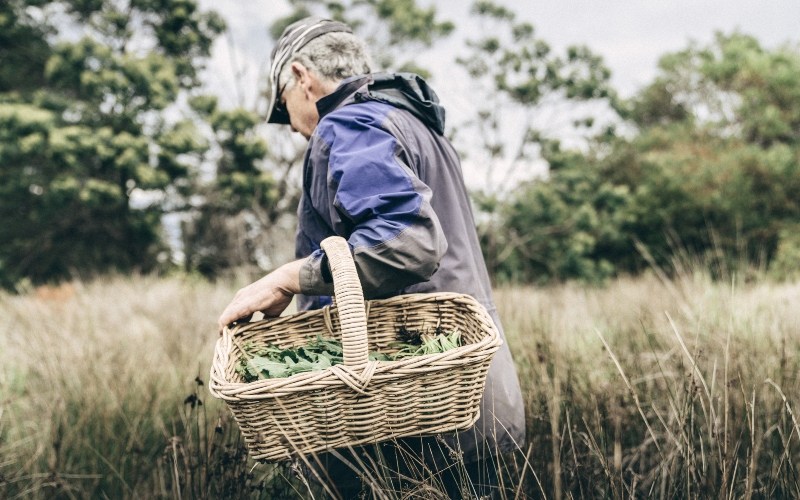 Love Her Wild photography, Mic Giuliani foraging for Sirocco South
Mic Giuliani of Sirocco South has been a long-term fixture at Hobart's Farm Gate Market. Known by some as a "caped crusader of Tasmanian food", Mic is now sharing the secrets of his foraged ingredients. Small-group tours of up to six guests can join him in the hunt for wild ingredients, including native greens, wild asparagus, edible mushrooms, saltbush and more. Then, beside sparkling Frederick Henry Bay, Mic prepares the foraged finds with local meat and seafood to create a six-course long-table lunch. Lunch is shared with Bream Creek Vineyard founder Fred Peacock, who offers an insight into the process of making the boutique wines as you enjoy them with the meal.
Southern Sea Ventures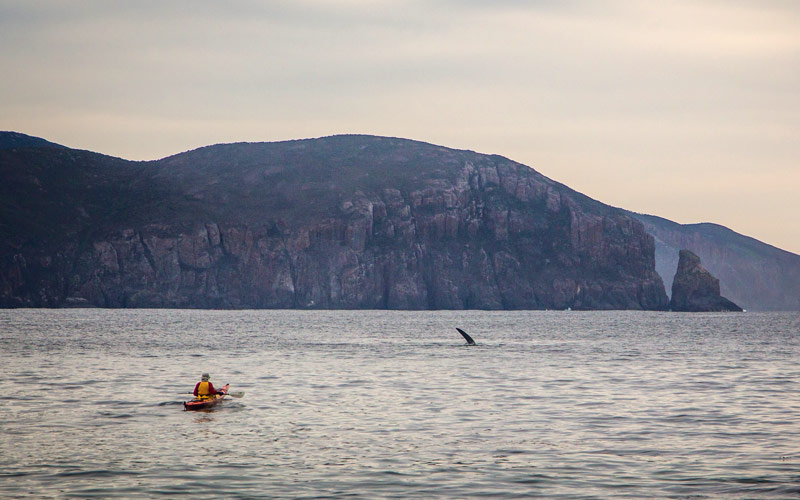 Paul Hoelen, Southern Sea Ventures, Tasman Peninsula
Combine sea kayaking, whale watching and cliff-top hiking on the Tasman Peninsula on a new sea-and-land experience by Southern Sea Ventures. A half-day whale-watching cruise to outlying islands and otherwise inaccessible coastlines is included in the three-night trip with a resident biologist. Gary Miller, a renowned biologist, will join the group each day to observe and explain the local and migratory marine life and deliver a series of specially prepared talks each evening. The overnight base is a private beachside lodge with direct access to Pirates Bay.
Tasmanian Boat Charters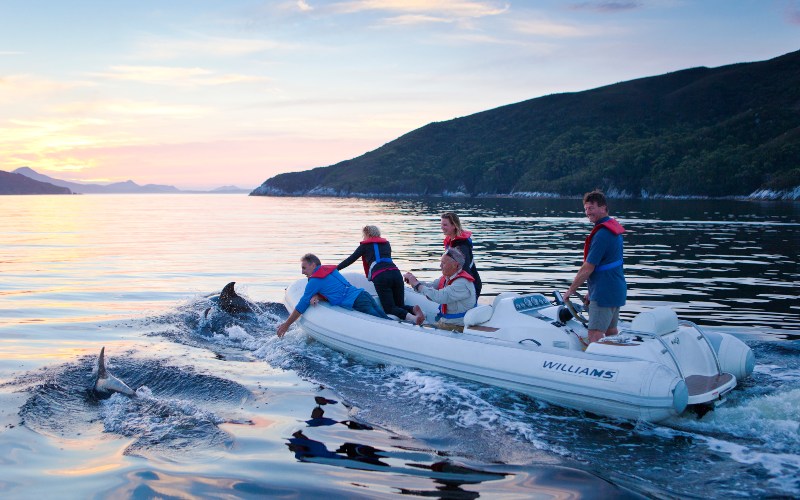 Mark Daffey, Tasmanian Boat Charters
See the best of Tasmania's spectacular east coast on a 5-day expedition with Tasmania Boat Charters. Departing from Hobart, the custom-built vessel caters to small groups wanting to explore the highlights of the region, including Port Arthur, Fortescue Bay, Maria Island, Wineglass Bay and Australia's tallest sea cliffs along the Tasman Peninsula.
The itinerary is tailored to guests' interests and plenty of local secrets are shared along the way. The voyage can be as relaxed or adventurous as one chooses with a maximum of 10 people per trip. Enjoy coastal bushwalks, wildlife encounters and kayaking with plenty of time factored in to sit back on the deck with a class of Tasmanian wine and a spread of local produce prepared by the onboard chef. The expeditions commence in October 2021.