Reconnect with Tasmania
Eat and drink with us, online.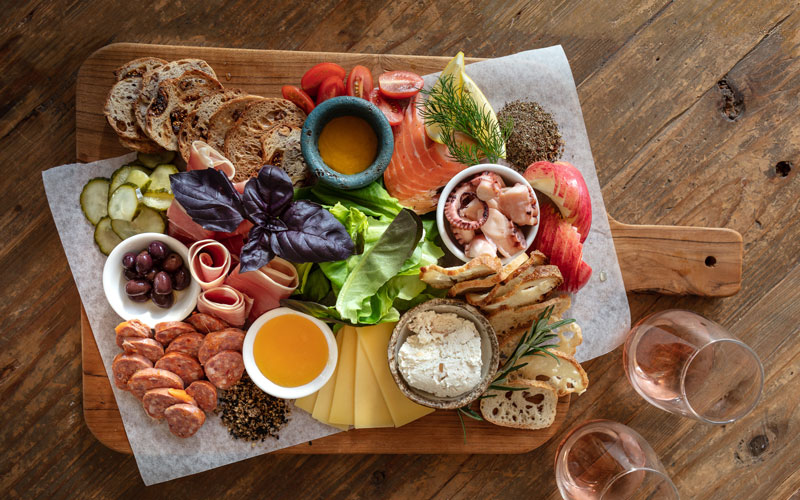 Our "Reconnect with Tasmania" series showcases the island's top virtual experiences. This week we look at Tasmanian food and drink. Think of isolation as your chance to indulge in great Tassie produce at home, in the comfort of your finest active wear.
Another glass?
Tasting notes and the virtual cellar door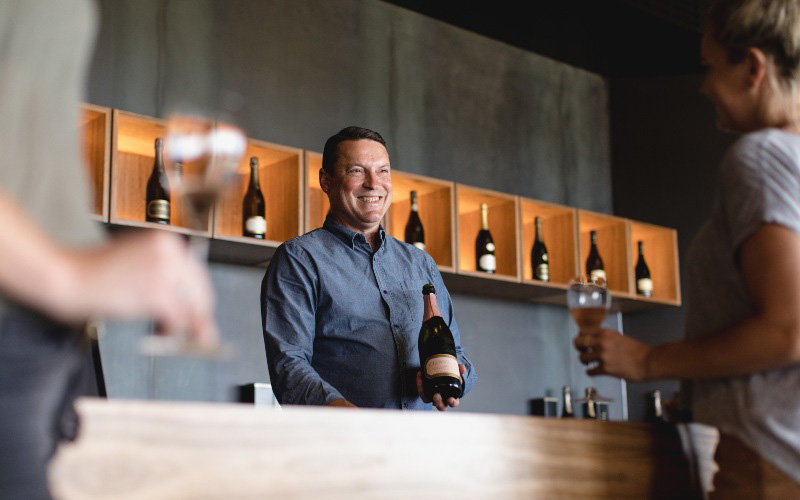 We love a one-stop shop, particularly if it's selling Tasmanian wine. Wine Tasmania has launched a new portal that aims to bring together the "greatest hits of Tassie wine", streamlining the shopping process with all proceeds going directly to Tasmanian winemakers. Not sure where to start? Try the Tasmanian taster pack for an introduction to top drops.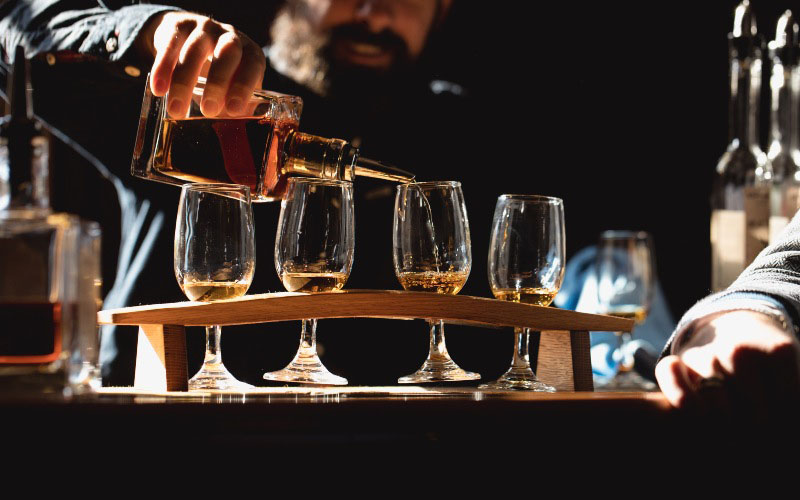 Virtual cellar-door tastings are the new Saturday-night party. Clover Hill leads the way, offering a sampling of Tasmania's top sparkling wine online. Fancy something a little stronger? Share a dram with the godfather of Australian whisky himself, Bill Lark at Lark Distillery. Happy hour runs from 6-7pm (AEST) every Saturday night with Vintage Tasmania, for online tastings and cocktail-mixing classes from across the Strait.
Meanwhile Tasmanian sommelier Joseph Burton conducts live-streamed tastings on his Facebook page weekly on Saturday evenings. Each week he selects three world-class wines, which he sells and delivers via his website – add a cheese platter, also from his website, for a great night in.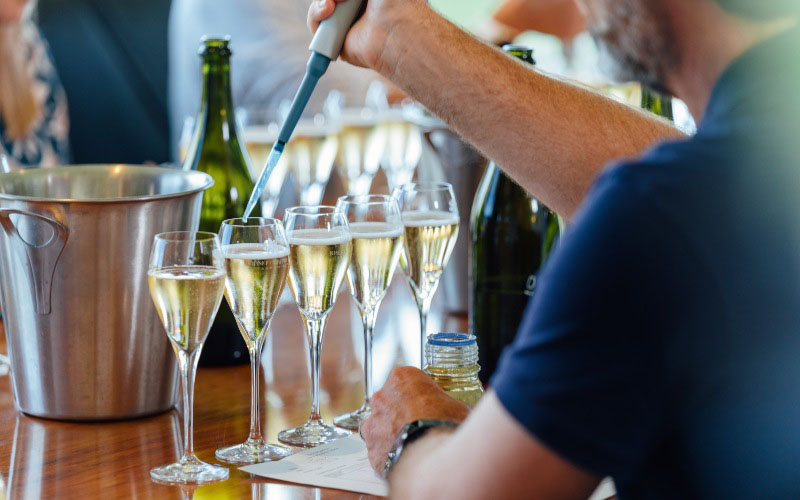 Master the Art of Sparkling with Josef Chromy's acclaimed Art of Sparkling Experience from the comfort of your lounge room, in a special one off event on Friday 5th of June. Experience being a winemaker for the evening, be taken behind the scenes of Josef Chromy winery and taught the Traditional Sparkling Method complete with tasting trials. To participate order an Art of Sparkling pack home delivered to anywhere in Australia. The pack includes two bottles of Josef Chromy NV Tasmanian Cuvee and Sparkling Rose, plus a 'build your own wine' style kit complete with your own bottle labels.
Tips for culinary confinement
Tassie's top chefs share their secrets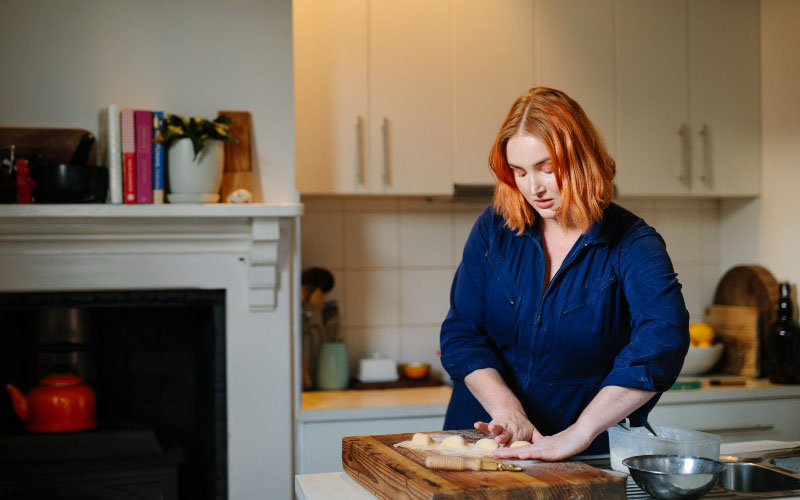 Meet Jamie Yates, the chef at Sonny, Hobart's favourite, pint-sized, Italian-inspired wine bar (and offspring of tiny eatery Templo). Jamie has been spending her iso whipping up tutorials on making pasta from scratch and preparing the perfect roast chicken.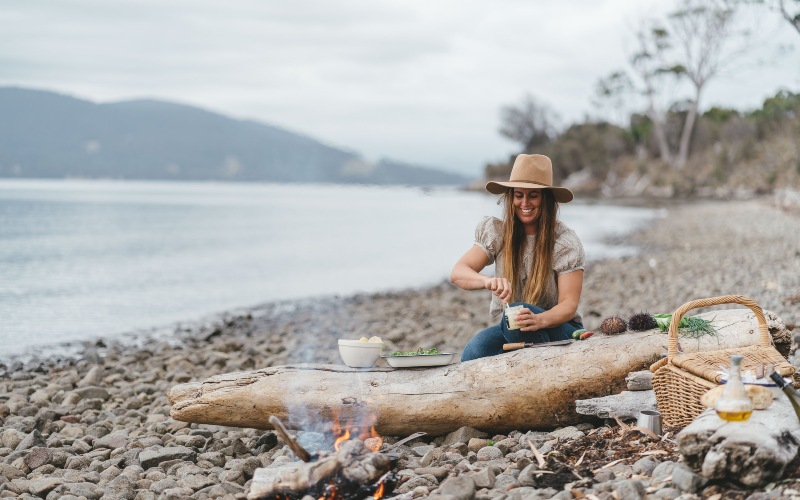 Massimo Mele, of Grain of the Silos in Launceston, has been busy uploading a series of video tutorials with help from the cutest sous-chef we've ever seen, Maximiliano Mele. Tasmanian Wild child Sarah Glover is sharing her finest fire-pit cooking tips and whipping up slippery-jack ragu using locally foraged mushrooms - more content planned to launch soon. And former Franklin head chef Annaliese Gregory has been sneaking snippets from her eagerly anticipated book into her Instagram stories.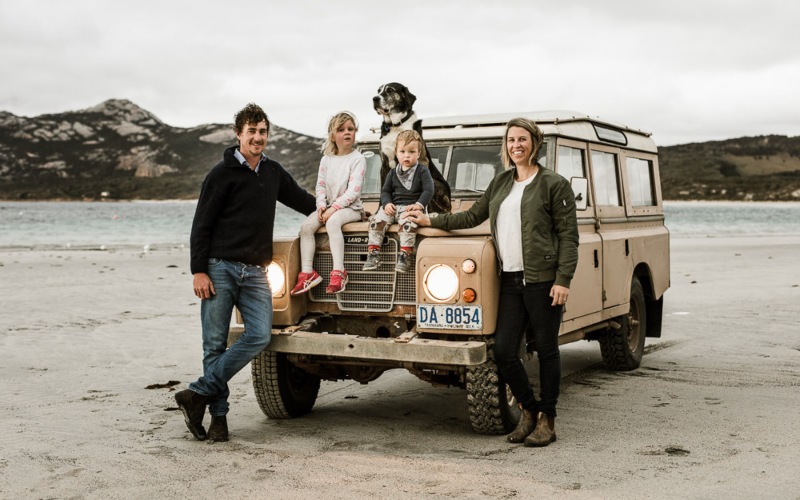 Meanwhile, Flinders Island Wharf founders Jo and Tom Youl are launching On Island Time, a YouTube channel dedicated to sharing stories of remote and remarkable Flinders Island with the world. The channel will have a food focus, featuring snippets of farm life, cooking tutorials and cameos from "friends of the island" - among them chefs David Moyle, Matt Stone, Analiese Gregory and James Viles - who will be cooking with island produce from the isolation of their homes around Australia.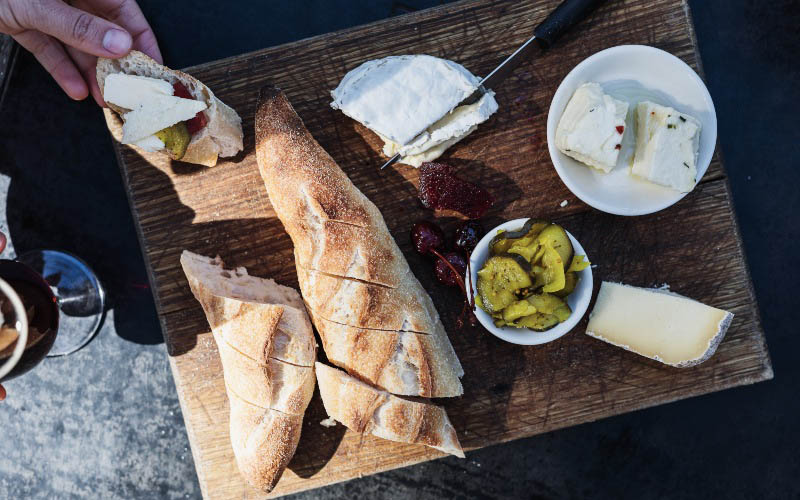 Let Tasmanian living treasure and passionate sourdough bread maker, Margaret Steadman, show how you can easily make your own delicious sourdough bread at home with a virtual Easy Sourdough Bread Workshop. The secret of fermenting the flour, makes sourdough bread not only taste great but is more nutritious than standard bread. Learn how to store, prove, knead shape, and bake your sourdough loaf. Register here, and happy bread making!
TV treats
Watch, dream, learn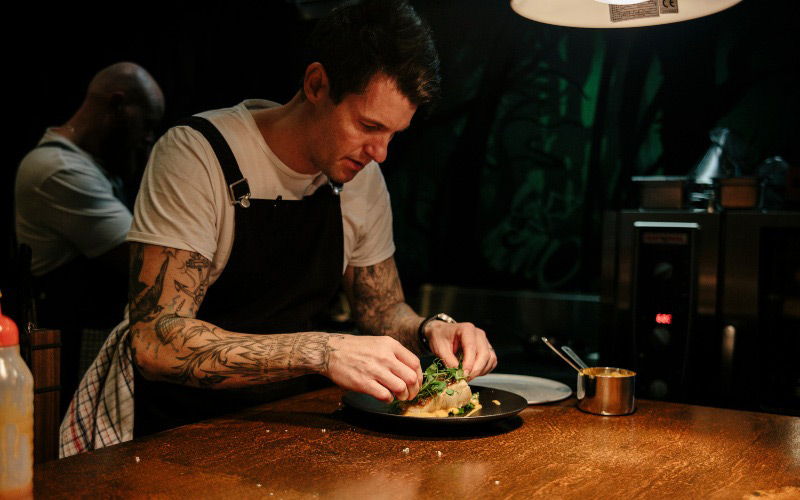 Catch-up on Channel 9's Award Winning Tasmania series starring local Masterchef talent Ben Milbourne. Part travel show, part cooking class, this TV series explores the food culture and fresh produce of Tasmania's north west, in and around the Cradle to Coast tasting trail.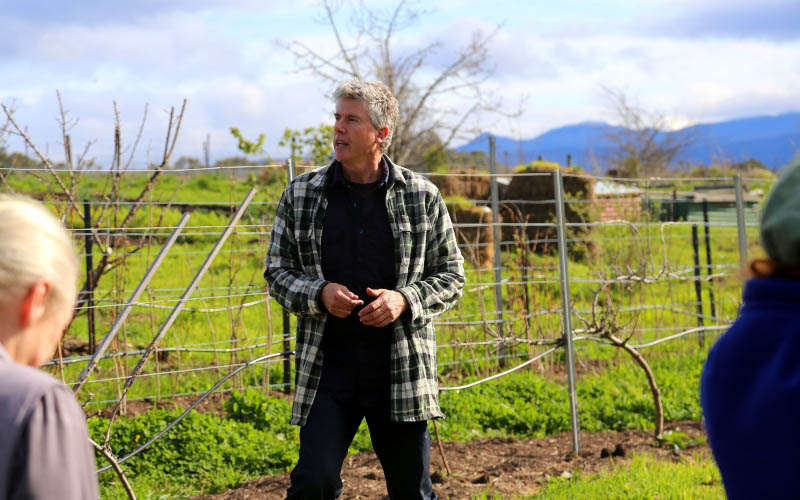 If you've have found yourself dreaming of a tree change recently, live vicariously through Season 5 episodes of Gourmet Farmer now streaming on SBS On Demand. Enjoy a Matthew Evans marathon as he forges a sustainable life in the Huon Valley, with wholesome recipes on the SBS website to complement your food journey.
Gardening gurus
Get down and dirty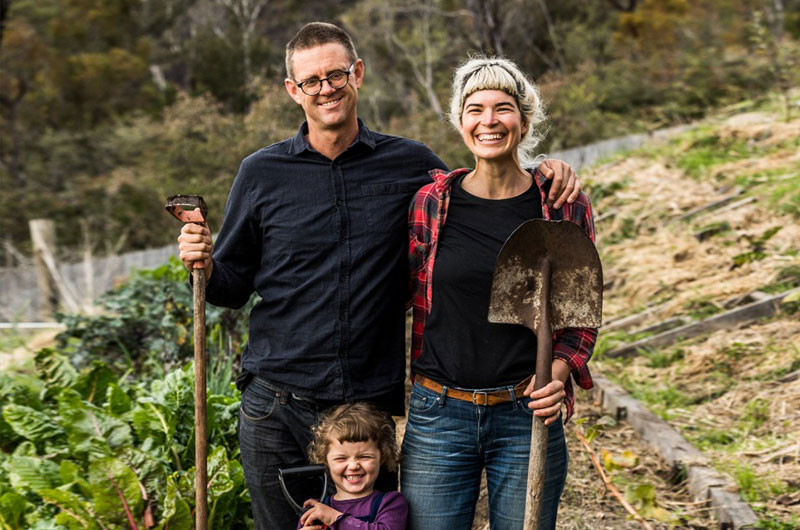 Keen to stretch your green thumbs? Good Life Permaculture, a landscape design and education enterprise based in Hobart, is running a weekly online series called Crisis Gardening, with terrific tips on growing vegies and harvesting for months to come.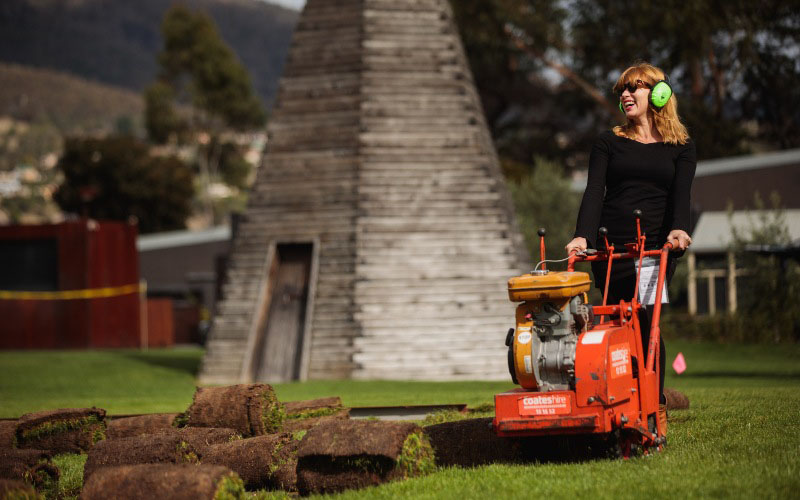 For gardening tips with a tongue-in-cheek difference, follow Mona's Victory Gardens as Mona Queen Kirsha Kaechele rips up the museum's lawns and plants her own rather special vegie patch. Share progress on your own backyard Victory Garden project each week on social media for the chance to win a pair of Blundstone boots. How Tasmanian is that?
Home delivery
Delicious and direct from Tasmania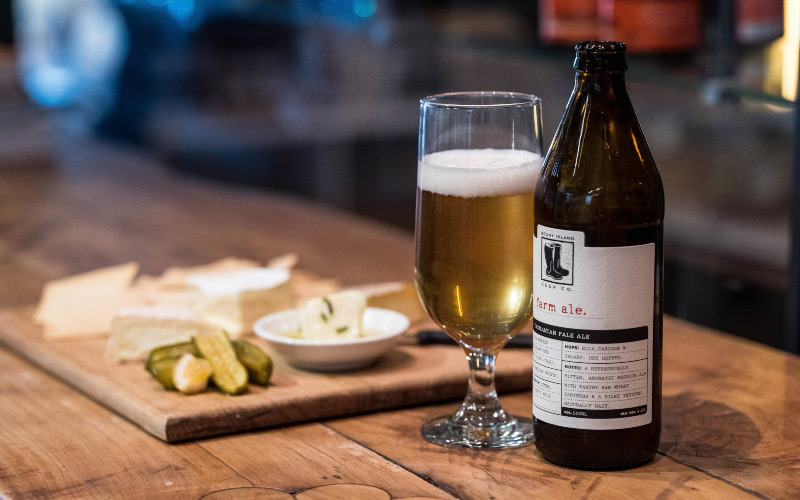 Among a bunch of Tasmanian makers and growers doing home deliveries is Bruny Island Cheese & Beer Co., which ships its chilled boxes of artisanal cheese anywhere in Australia. And not just cheese – the company has assembled all manner of Tassie gourmet goods for dispatch, from pickled walnuts to apple cider vinegar. If you're a fan of the SBS's Gourmet Farmer series, order a slice of Fat Pig Farm goodness directly from the farmer himself, Matthew Evans.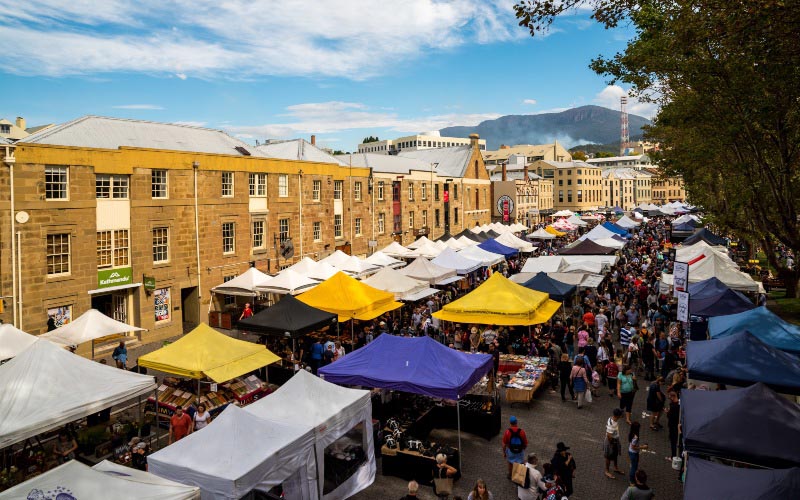 Meanwhile, Tasmania's best-known outdoor market has moved online. Salamanca Market's treasures and trinkets are now available via an online portal, minus the buskers and cinnamon donuts for the moment.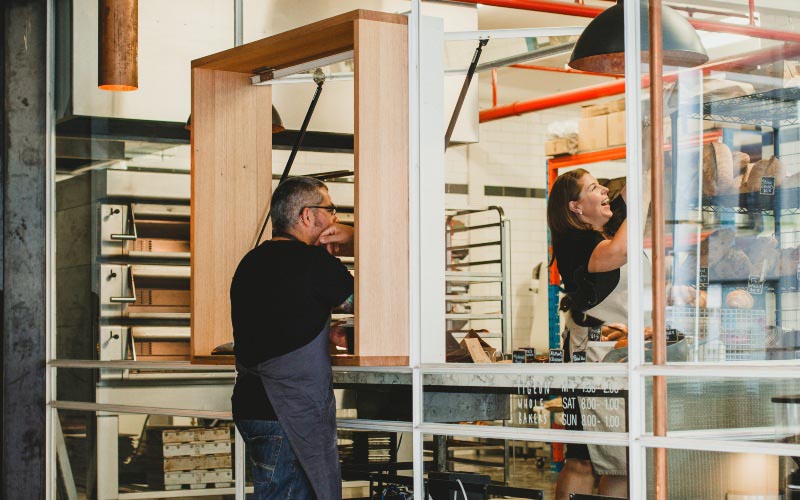 Some Kind are developing a crowd-funded selection of books that capture the best recipes from Hobart's culinary scene for an easy $20, with profits shared by the project's designers, editors, photographers, illustrators and writers to keep creativity alive in the southern capital. Straight out of the oven, Hobart's master baker Pigeon Whole Bakers has mixed and kneaded a cookbook of bread and pastry essentials, a mini masterclass for all baking hopefuls. Sonny wine bar will be sharing their craft of handmade pastas, simple seasonal snacks and wine pairings. Hobart's favourite corner-perched gastro-pub Tom McHugos have selected carefully curated seasonal recipes.
Image Requests
For high resolution photographs used in this article, please reach out to our PR & Earned Media team at media@tourismtasmania.com.au or join our Visual Library.