Freewheeling in Tasmania

Isolation has sent people back to their bikes for daily exercise and a taste of freedom, and introduced a new generation of cyclists to the ease of social distancing from the saddle.
In Tasmania, we take our riding seriously. In fact, the island is threaded with purpose-built, award-winning track through spectacular landscapes - from sky to sea, rainforest to beach, granite to hero dirt. This is a global mountain biking destination, with 300 kilometres of track across the island and routes for all skill levels.
Mountain biking is booming on the island, with scores of new trails, shuttle businesses, accommodation and eateries popping up to cater for riders. There are even entire towns dedicated to serving riders. Beyond mountain biking, there's a dazzling range of cycling experiences on offer, from gourmet day tripping to multi-day touring.
Start planning your cycling adventure, whether you dream of a flowy single track, a gnarly gravity ride or gentle pedalling to suit the whole family.
Tasmanian Island e-Bike Adventures, Maria Island
Around the island in a day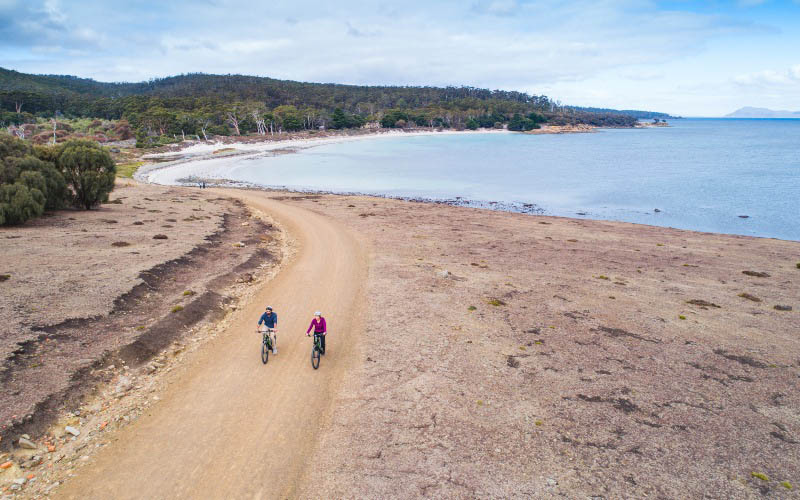 Explore Maria Island National Park off Tasmania's east coast from the comfort of an electric mountain bike. There are no cars (and no shops) here, just 30 kilometres of tracks and trails and a wonderland of abundant wildlife, quiet beaches and bays, geological formations such as the Painted Cliffs, and convict ruins. Maria is great for those with little or no mountain biking experience and a keen sense of adventure. www.tasmanianebikeadventures.com.au
Huon Bikes, Huonville
Pinot and pedal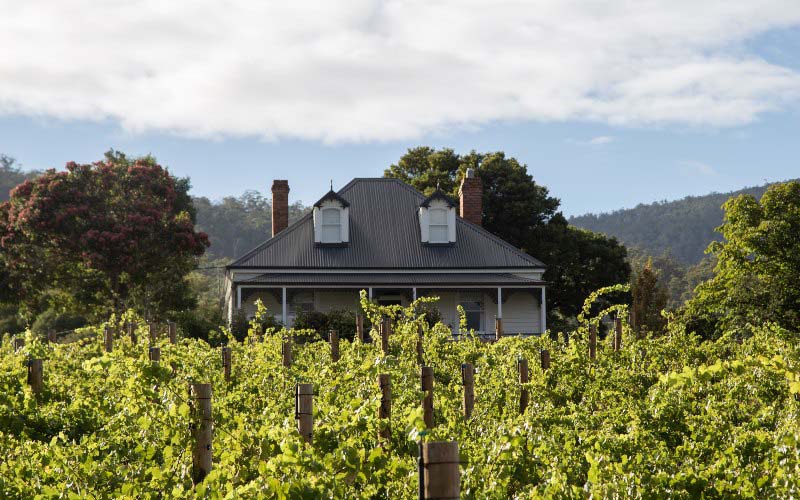 Tasmania's nickname, the Apple Isle, blossomed in the apple orchards of this fertile southern region, and there's no better way to explore the valley than on two wheels. Among Huon Bikes' guided tours is the Valley Ride, taking in historic buildings, scenic countryside and visits to local producers for tastings, and the Mountain Ride towards the Sleeping Beauty mountain range through rural landscapes with morning tea in an orchard. The Winery Ride, meanwhile, is a chance to pinot-and-pedal between the cellar doors of Home Hill and Kate Hill Wines. www.facebook.com/huonbikes
On Your Bike, Launceston
Charms of the northern city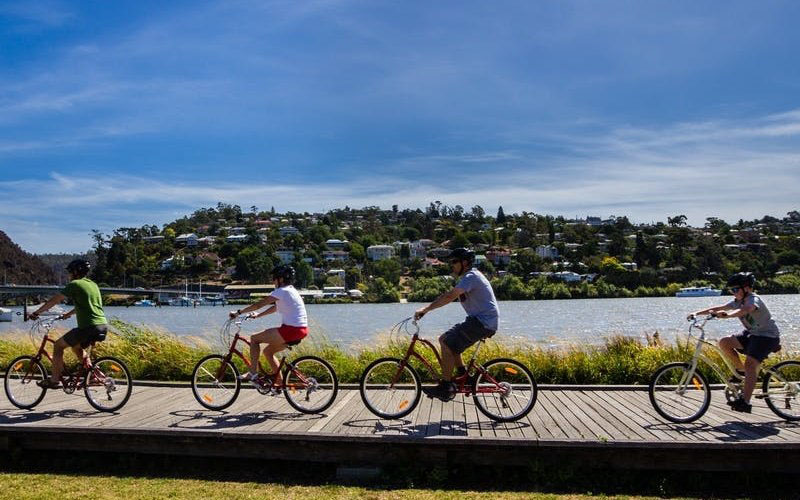 Get to know the city from the saddle on this guided cycling tour by local operator On Your Bike. Expect history, local stories, tastings and gentle exercise on a range of tours, including Ride The River, that follows some of Launceston's best cycleways, a Saturday-morning Ride The Harvest, that explores the lively farmers' Harvest Market, and Ride the Vines which visits Josef Chromy's vineyards and finishes with a tasting.
www.facebook.com/onyourbiketourslaunceston/www.onyourbiketours.com
Eudaimonia Tasmanian Cycling Tours, Hobart
Venture south

Cycle roads less travelled on tours by Eudaimonia Cycling Tours. Tours range from a couple of hours around Hobart to multi-day journeys. The Channel Loop is a challenge rewarded with a treat at the Cygnet Bakehouse. Hop the ferry to Bruny Island for highlights including time at the Neck and whisky tastings to guilt-free indulgence at the Bruny Island Cheese Co - ideal for a group getaway, with overnight stays available. The Hobart Weekender tour explores the city's farmers' markets, cafes and restaurants. And the Wild West Coast tour plots a wild course from Cradle Mountain to Queenstown through the central highlands. www.tasmaniancyclingtours.com
Tasmanian Expeditions
Self-guided east coast bike tour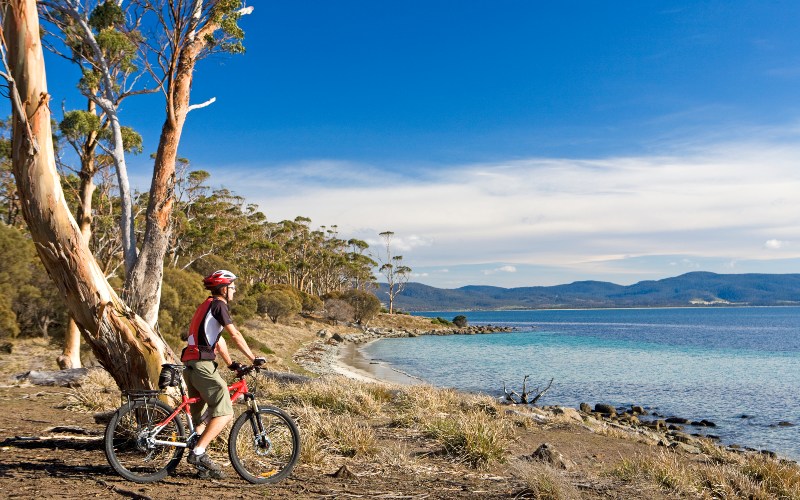 Seeking a freewheeling holiday without fuss? Tasmanian adventure-travel specialist Tasmanian Expeditions oversees the logistics of a six-day self-guided cycle tour of the east coast. This coastal adventure begins near Bicheno and winds past fishing villages and vineyards, dairies and berry farms toward Freycinet National Park and Wineglass Bay. The ride ends on the car-free wildlife haven of Maria Island. www.tasmanianexpeditions.com.au
Blue Derby
The town where mountain biking reigns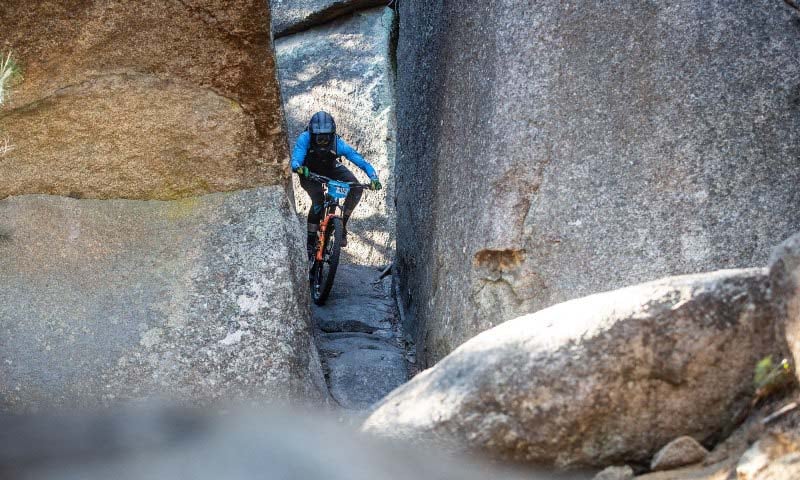 Threaded through forests of giant ferns and myrtle in north-east Tasmania, the mountain bike trails at Blue Derby cater to all skill and fitness levels. With 125 kilometres of purpose-built trails, expect loads of berms, booters, jumps and flow. The earth here sticks like glue to bike tyres, creating a riding experience unrivalled in Australia. The network is built in the endure style, with uphill and downhill sections, and is close to the friendly former tin-mining town of Derby, about 90 minutes' drive north-east of Launceston. This little town has a great atmosphere and caters specifically for mountain bikers - its main street lined with bike shops, bike hire, shuttle services and bike workshops, and plenty of rider-friendly accommodation and meals. www.ridebluederby.com.au
Maydena Bike Park
Calling thrill seekers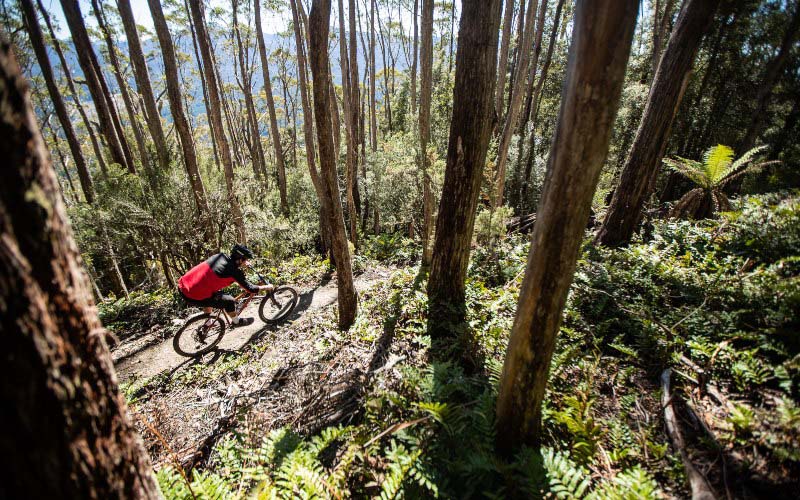 Welcome to the largest gravity park in the southern hemisphere. Located in the Derwent Valley, just over an hour's drive north-west of Hobart, Maydena Bike Park has more than 62 trails and a massive 820-metre vertical elevation. Steep and technical for the most part, this park is best suited to experienced riders, though there are some family-friendly rides through the rainforest. www.maydenabikepark.com
St Helens Mountain Bike Trails
Coastal cruising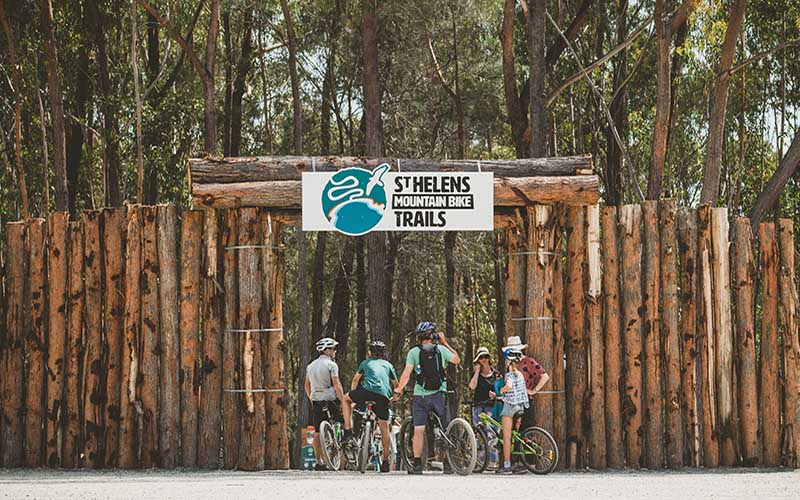 Whether you dream of shredding serious downhill, enjoy cross-country flow or seek a day of family fun, the St Helens Mountain Bike Trails has an experience for everyone. Located on Tasmania's east coast, just an hour's drive east of Derby, the island's newest mountain bike destination spans a spectacular stretch of coastline and two separate trail networks: the Bay of Fires Trail, and the St Helens Stacked Loop Network. www.sthelensmtbtrails.com.au
Bay of Fires Trail
Flow from mountain to ocean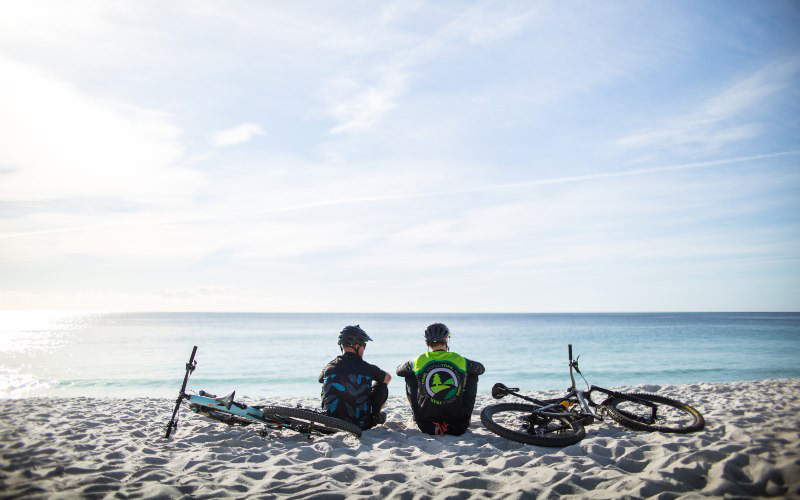 There aren't many places in the world where you can ride from the mountains to the sea. The Bay of Fires Trail starts high on the Blue Tier's trailhead, near Derby, and ends on the east coast in the Bay of Fires Conservation Area, known for its granite boulders splashed orange by lichen. This epic 42-kilometre ride traverses rainforest and sub-alpine terrain, climbs through giant granite boulders and emerges on the white sand at Swimcart Beach. Riders should allow 4.5 hours to complete the trail, and carry everything that they might need, including water and food. Given the trail length, e-bikes are a great choice for this ride. There's a shuttle service from the town of St Helens to the trailhead near Derby.
West coast
Hold on for a wild ride
The climate, geology and elevation of the trails in this remote region offer thrilling experiences, though fitness and self-sufficiency is required. For a wild ride, consider Oonah Hill Trail, the first purpose-built mountain bike trail on the west coast, or Sterling Valley Trail. With new trails being developed, this region is set to be the next big thing in Tasmanian mountain biking.
Travel to ride
Getting here
Many riders prefer to travel with their own bikes. Check specific airline baggage allowances; most carriers allow 30 kilograms for bikes. Bikes can be transported aboard the Spirit of Tasmania ferry.
Getting around
Car hire companies offer a range of vehicles for mountain bikers, including cars with bike racks and utes with soft tail pads. Airport-to-trail transfers can be arranged with companies including Up Down and Around and Maydena Express, which operate out of Hobart and Launceston direct to Derby, St Helens and Maydena. Drive Ride Explore specialises in self-drive mountain bike adventures; Tailored Trails offers private transfers and bespoke multi-day experiences; and Tasmania Mountain Bike Adventures sells multi-day packages touring destinations around the state.
Image Requests
For high resolution photographs used in this article, please reach out to our PR & Earned Media team at media@tourismtasmania.com.au or join our Visual Library.